Nooky Gossip 88: Discount Across Store -Autentico Sale - General Finishes Update - New Brand Coming Soon - Gorgeous Cocktail Cabinet Makeover!
Posted by Shereena Starmer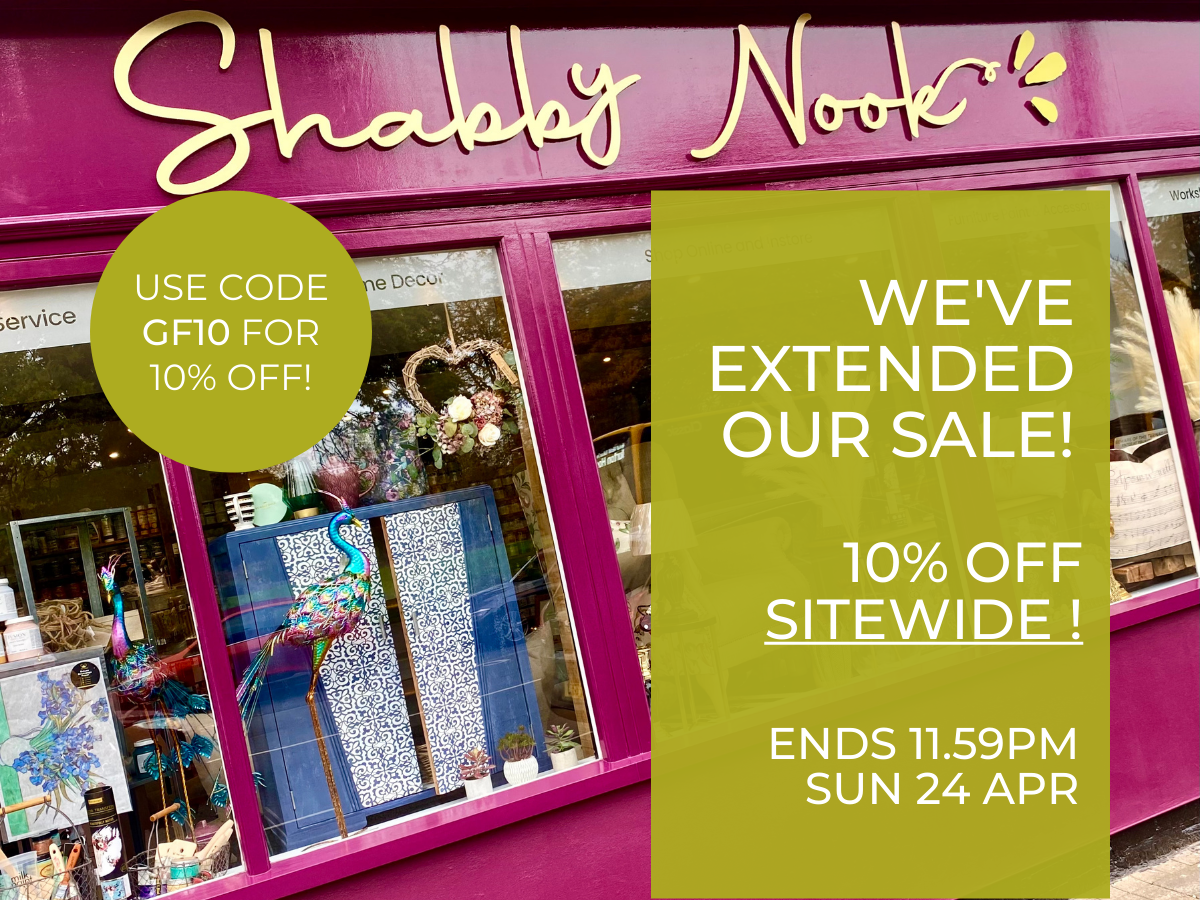 Maybe it's too much sun, maybe it's the cocktails but I've decided to extend our General Finishes discount code so you can now get 10% off sitewide!
Yes, you can now save 10% across all the brands and products on the site! But be quick - this offer is only valid until 11.59PM on Sunday 24th April! To save 10% on your order just add discount code GF10 at checkout.
This discount code cannot be used in conjunction with any other offers - so if you want some Autentico - keep reading for an even better deal!
Our 50% off Autentico offer has proved popular but there are still plently of products left! Grab an absolute bargain on any Autentico products from the instore collection by entering code GET50 at checkout. This discount code cannot be used in conjunction with any other offer - so make sure to use GET50 for your Autentico products and GF10 for everything else to get the best savings!
Looking for some inspo for that next project? What about this gorgeous and grown up cocktail cabinet from Shabby Nook Associate Paul Estall of Percy & Albert Interiors?!
Paul transformed this tired looking cabinet with Fusion Mineral Paint in Ash and General Finishes High Performance Top Coat in Satin Finish using his trusty Staalmeester roller!
To add interest, he lined the backing boards with dark grey mirrors and applied 6mm frosted pinstripes for a contemporary finish. Paul has achieved an absolutely stunning finish on this which is topped off with some new hardware and custom LED lighting. The result is an impressive gin cabinet that could be easily styled to fit any home!
Thanks for sharing yet another stunner with us, Paul!
Get inspired by fellow painty people over in our Facebook group by clicking the button below!
CORRECTION: PRICE INCREASE

In the last Nooky Gossip I made a small boo boo - I said that the price of General Finishes would go up mid-May. That was incorrect.
General Finishes prices will increase from Monday 2nd May 2022. With the costs of materials and manufacturing going through the roof General Finishes have announced an increase in costs across their product range. The average price increase is 19%. This means we have to increase the retail price of our General Finishes products too.
As you can currently save 10% sitewide with code GF10 this is the perfect time to stock up on General Finishes ahead of the price rise.
COMING SOON!

I am very excited to let you know a fab new brand is coming to Shabby Nook! Further details and a pre-order email will be released soon. It's a brand that isn't really available in the UK yet and is amazing for creative artists! Can't wait to tell you more soon!