Nooky Gossip 87: Happy Easter from Shabby Nook!
Posted by Shereena Starmer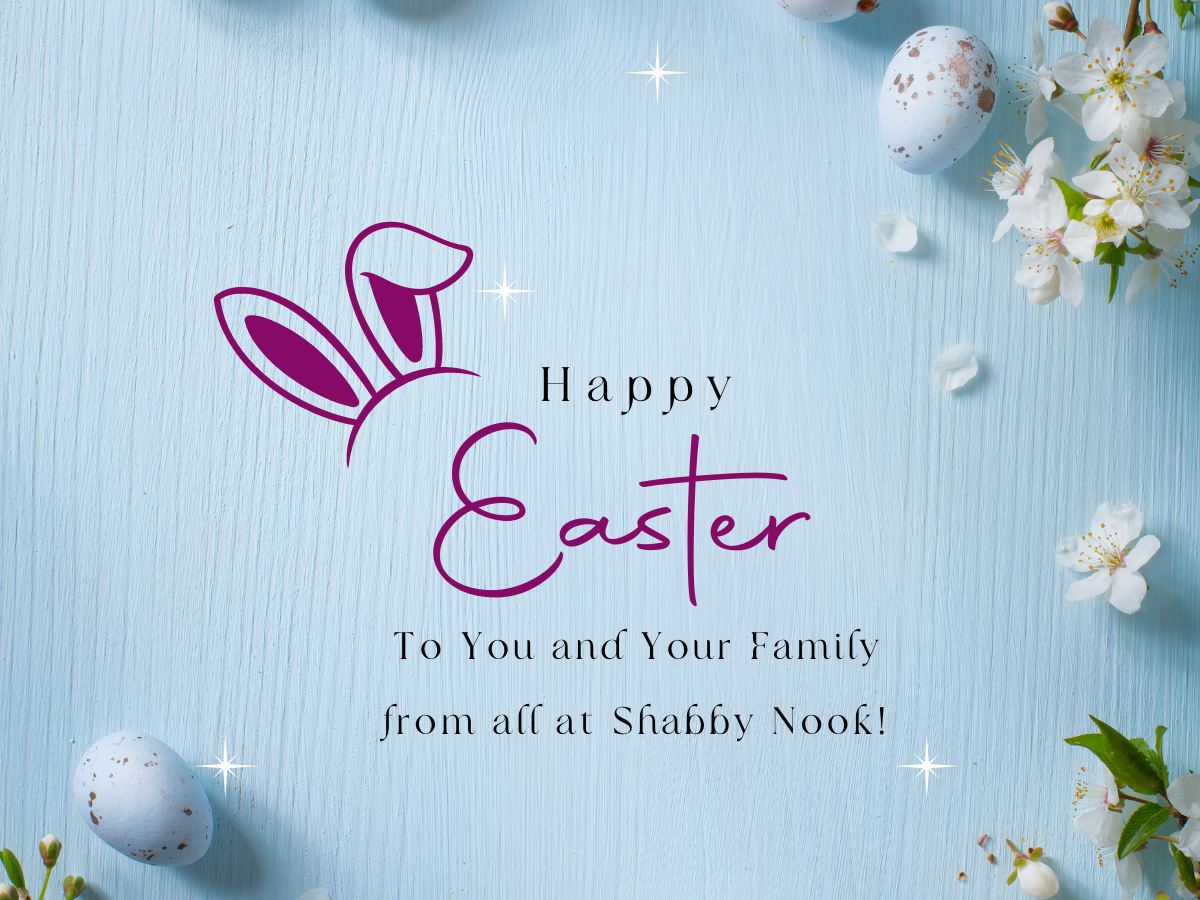 We are still away on our family holiday but I wanted to stop by to say Happy Easter to our lovely customers, and also share some important business updates with you!
I hope you enjoy a restful and rejuvenating long weekend (and if you have kids that you are surviving the easter break)!
Just to remind you we are closed whilst we are away - we will reopen on 25th April.
You are welcome to order online whilst we are closed BUT please note your order will not be processed until we re-open. Orders will be processed in date order.
Please take the time to read the business updates below.
With fuel prices sky high there is a knock-on
effect with shipping costs – and carriers have increased their prices. We are really pleased to let you know we have managed to secure a fantastic price with Royal Mail. 90% of parcels from Shabby Nook will be sent 48 hour tracked delivery with Royal Mail – and the set price for shipping will be £4.85 regardless of the weight of the package. We will continue to use Parcel Force for any substantial orders. In the current climate this is brilliant value for money.
GENERAL FINISHES - PRICE INCREASE
With the costs of materials and manufacturing going through the roof General Finishes have announced an increase in costs across their product range. The average price increase is 19%. This means we have to increase the retail price of our General Finishes products too. The good news is Shabby Nook will honour current prices until mid May – if you are looking to top up your General Finishes products get buying now before the price goes up!
You may have noticed we have stopped including an invoice with your packages. This is because we are moving towards being a paperless business (as much as possible) for sustainability reasons, and to streamline and reduce shipping processes and costs (including the cost of ink and paper). We are happy to be passing that saving back to our customers. If you would like a copy of your invoice don't forget you can access it from your Shabby Nook account online.
Mothers Day Special Offer! - Paint Bundle
£55.00 £40.00
This fab paint bundle is not just for Mothers and not just for Mothers Day! As this was so popular we have extended the bundle offer. Get your hands on this great value bundle before they run out! Choose between 4 colour palettes - pastel, pop of colour, dark and moody or soft neutrals.