Nooky Gossip 8: TOP TIPS - keeping your pots pristine! Painty Peeps Pens! In the Spotlight Lockdown Project!
Posted by Shereena Starmer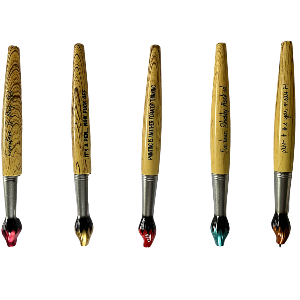 Pining for Pristine Paint Pots?
Messy, crusty, stuck on paint lids are the bane of a painty person's life.
But no fear, Shereena is here to share her top tips in keeping your paint pots, and other accessories in tip top condition!
TIP 1: 
Decant your paint! This stops paint becoming contaminated with all those annoying little bits that fall in when you try and paint directly from the can! I like to decant into paint trays that are lined with foil. That way you don't need to clean the tray and can cover or wrap up the paint in the foil to stop it drying out! Bonus!
TIP 2: 
Use painter's tape or masking tape to create a spout to pour out your paint.  This neat trick stops the paint pouring down the side of the can. I shared a quick vid of this on the Shabby Nook Facebook page - you can view it by clicking 
here
. 
TIP 3: Cover open paint containers with a layer of cling film or a sandwich bag BEFORE putting the lid back on. This helps prevent the lid from sticking solidly to the rim! This is particularly helpful with paints like Fusion - as the resin really can fuse that lid on!
TIP 4: If it's too late and your lid is already stuck - don't panic! Run it under hot water. It will cause metal to expand and loosen the lid enough for you to open it. This works with plastic pots too - it will loosen the dry and crusty paint so you can open it again. Phew!
TIP 5: 
Don't wipe the excess paint off a brush on the rim of the can. Place an elastic band around it so that it crosses the top of the can and wipe the excess against the rubber band - keeping the edge of your paint can nice and clean. Also,
see point 1
and decant your paint so that this isn't an issue! 
Tip 6: Stop paint brushes and rollers from drying out by keeping them in an airtight bag. You can put the bag in the fridge to give them even more protection and help keep them wet - this is a life saver when it's hot weather and you need to leave your brushes overnight!
Painty Pens Charity Collab!
 

We're excited to showcase our new novelty pens,

 

designed exclusively for Shabby Nook!

 

They are the ideal gift for the paint lover in your life, and a perfect treat to buy yourself too!

 

What makes these

 

even

 

better is

 

10% OF ALL SALES

 of our painty pens purchased between now and 15th December 2020 will

 

go towards a fab local charity

,

 

Derek's Tree

, AND whatever donation we raise between those dates will be

 

matched by Shabby Nook

!

 

Derek's Tree

 is an amazing cause that collects Christmas presents for disadvantaged kids in the local community in and around Burton upon Trent.

 

What are you waiting for? Purchase our painty pens now and help give a gift to a child in need at Christmas!

 
Glorious Greenhouse Revival!
How's this for a lockdown project?! Facebook group member, Mary Gregory, completely transformed her old greenhouse from dated and unloved to a modern haven of tranquillity! Mary says it was her biggest painting project to date! It took several weeks, and she painted the frame, decking and even the chairs! The chair material has been painted in
Fusion Mineral Paint
in Mustard. What a fab idea to bring the chairs up to date! They look like leather now! Members of the private Facebook Group -
Furniture Painting Hub with Shabby Nook
- adored this incredible transformation! Big thumbs up to Mary for all her hard work, it has certainly paid off! For design inspo and for a chance to have your own renovation projects featured in future issues of Nooky Gossip - sign up to the group by clicking the button below and start sharing your own transformations with us!


 Want to get our weekly Nooky Gossip emailed to you each week? No problem click the link below: