Nooky Gossip 29: BRAND NEW - FUSION MILK PAINT! SILK Sample Sticks & Fan Decks! Gorgeous Greys In The Spotlight Transformation! Register for Evolve Membership for Shopify Support!
Posted by Shereena Starmer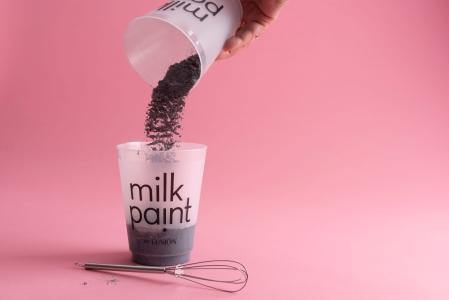 Milk Paint Made Modern!
.
Fusion Milk Paint is now available Shabby Nook! Milk Paint comes in powdered form – giving you control over how much or how little paint you want to use. It is much thinner than most paints but gives fab coverage – it absorbs into the wood fibres, or, if you want to use on a non-porous surface, just add some Fusion Ultra Grip to help it bond to the surface. 
Milk Paint gives a matte, chalky finish and will require sealing with a top coat. It only takes about 30 minutes to dry and cure – super fast compared to most other paints!
The beauty of this paint is that it's versatile. You can achieve a smooth, flawless finish with its self-levelling formula, or go for a chippy, shabby chic finish. Its buildable application lets you achieve the finish you want. You can also use milk paint as a stain by adding more water to the mix! It's so easy to use – just add water, mix and get painting!
Silky Smooth
.
We have been hearing some amazing feedback about Dixie Belles Silk All in One Mineral Paint since it launched in the UK in November 2020! It has excellent coverage and is durable, easy to clean and suitable for use indoor and outdoor use. With built in primer, stain blocker and top coat it's no wonder it is becoming a firm favourite with our customers! 
When deciding which colour to use on your project it is really useful to see some colour swatches - and here at Shabby Nook with have you covered offering you a choice of handpainted swatch sticks and a fan deck for the Silk range!
For £10 you can have your own set of
Handpainted Silk Swatch Sticks
! A set contains one sample of each colour from the Silk range. Each stick is labelled and they will all be linked together on a handy keychain. These are actual paint colour swatches, providing you with true to colour paint samples.
The Fan Deck
is available for £15.50 and includes all the Silk All-In-One Mineral Paint colours. The back of each colour card includes a colour description. The colour cards provide an accurate representation of the Silk range in a printed format. Approximate size: 127mm x 50mm. 
Glorious Grey!
.
Returning to In The Spotlight this week is Laura Downes with this gorgeous vintage grey sideboard! It is the first time Laura has used the blending technique on such a big piece and hasn't she done an amazing job?!

We love the ombre effect that has been achieved! It looks so elegant!
Reminder!
.
If you are already running your online store through a Shopify website but would like to expand your knowledge and have some extra support, Kouki will soon be launching Evolve – a private membership group specially designed for those with Shopify websites! Register your interest 
here
!
Want to get our weekly Nooky Gossip emailed to you each week? No problem click the link below:
I would LOVE to hear what other paint related tips, tricks and treats you would like to know about!