Nooky Gossip 30! Faux Finish Fusion Milk Paint! Autentico Home Improvements! Corner Cupboard Transformation! Product Reviews! Instagram Competitions!
Posted by Shereena Starmer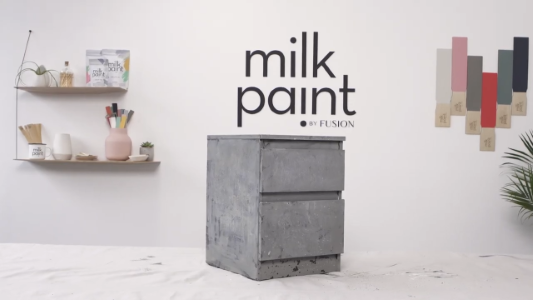 Faux Looks With Fusion Milk Paint!

How amazing is the effect on this set of drawers? Doesn't it look like they're made out of concrete? They haven't! It's just been painted to look like that with the fab new versatile 
Milk Paint from Fusion! It was created with Fusion's Ultra Grip, Ash, Gotham Grey, Hotel Robe, Little Black Dress and Wax. Check out our blog for a step by step guide on how to achieve this look!
There are so many different finishes you can achieve with Fusion Milk Paint; including
 smooth and flawless, chippy chic, distressed, and crackled. Its buildable application lets you achieve the finish you want. You can also use milk paint as a stain by adding more water to the mix! As well as being multi-faceted, it's also so easy to use – just add water, mix and get painting!
Take a look at the range over on our website – there are 25 gorgeous colours and we've included some ideas for how to achieve different finishes. Be quick though – we only have limited stock at the moment!
Home Improvements!

I have been busy finishing off some of those home improvement projects I didn't quite get finished last year! Keep an eye out next week for a more detailed blog post on what I've been up to, including tips on how to revive old kitchen worktops, but for now - enjoy this sneak peak!
I also finished the kitchen worktops using
Autentico Grandiose Hard Wax Oil
. I applied it using the
Premium Chip Brush
and wiped it back using
Applicator Pads
, both from Dixie Belle Paint Company. Autentico Grandiose Hard Wax Oil is hardwearing, water resistent and perfect for providing a protective yet natural looking finish to kitchen worktops, hard-wood floors and more! I am so pleased with how my kitchen worktops turned out!
Creative Corner Cupboard Transformation!
Ali Irvine shared these pics of her amazing corner cupboard transformation in our Facebook Group recently - WOW! What a work of art!

For more inspiration, top tips and connections with other painty peeps make sure to join our private Facebook Group Furniture Painting Hub – With Shabby Nook today, and don't forget share your own work!
Calling All Superfans!
Thanks to some new software you are now able to leave individual product reviews on our website! Be the first to leave us a review for your favourite products that you just can't live without by heading over to our website, finding the product and scrolling down to the Customer Product Review section.
Follow Us!

Keep an eye on our instagram page - we will be announcing a
Milk Paint Bundle Giveaway
soon - miss it and miss out!
Check you're following us by clicking
here
, and if you're not, click the follow button now!
Want to get our weekly Nooky Gossip emailed to you each week? No problem click the link below:
I would LOVE to hear what other paint related tips, tricks and treats you would like to know about!