Nooky Gossip 28! Kouki Success! Creative Challenge with Done Up North! General Finishes Update. NEW Chameleon Wax! NEW Gilding Wax! Bureau Transformation!
Posted by Shereena Starmer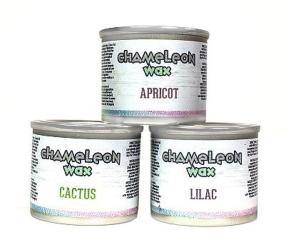 Shopify Success!
Over in Kouki, we are over the moon to have run our very first course and supported 15 wonderful businesswomen in creating their very own Shopify website! It was a challenging week, but everyone rose to the challenge, faced their tech fears and learnt something brand new! Here's some feedback we've received so far:

"I built my own website, me, a mid-50's woman with little to no tech experience and the pride I feel is overwhelming, but I did it because I had such an amazing support system with Kouki Courses. Would I do it again??... in a heartbeat!"
Sue Denny, owner of Ellenswood Pyrography

"I've gone from someone who couldn't even copy and paste to the proud owner of website that I can manage within one week! Shereena and team are exceptionally dedicated to providing knowledge and support, I really can't sing their praises enough."
Janette McKay, owner of McKay Designs

If you missed the course this time round, make sure to register your interest here so we can let you know when we run it again. 

If you are already running your online store through a Shopify website but would like to expand your knowledge and have some extra support, Kouki are launching Evolve – a private membership group specially designed for those with Shopify websites on 1st February 2021. Register your interest here to find out more! 
Let's Get Creative!
After a very business focused few weeks I am looking to get back into my creative zone again! So I have signed up to do Done Up North's 'Design Your Way in 5 Days Furniture Design Challenge' next week! I am itching to do some design work but struggling to put all my ideas together - this challenge has come at the perfect time.

I would love to see some of your friendly faces there too! It's £27 and you get access to daily emails, tutorials, live training and a Facebook Support Group. I'm excited to get started! You can sign up using my affiliate link here.
General Finishes are going through a restructure after there was sadly a bereavement in their family run business. At present it is not possible to advise when out of stock General Finishes products will be available again. If you are looking for a replacement for their Flat Top Coat we highly recommend using 
Dixie Belle's Flat Top Coat
.
We have the gorgeous new Gilding Wax from Dixie Belle in Black and Silver in stock! The black gilding wax gives an timeless elegant finish and the silver gilding wax adds additional bling to anything you fancy!
Chameleon Gilding Wax from Dixie Belle is now in stock in Cactus, Apricot, and Lilac. With an iridescent glow it changes colour depending on what base colour you apply it over,  like a chameleon! A versatile wax for your furniture painting toolkit.
Grandad's Bureau!
Nicola Burgess, member of our Furniture Painting Hub with Shabby Nook Facebook Group, upcycled her customer's Grandad's bureau, bringing it bang up to date in a classic way that still allows the beautiful wood finish to shine.
Nicola
sanded
the bureau, removing the old veneer finish on the top and then painted the bureau with
Fusion Mineral Paint in Pebble
, leaving the top, inside and drawer frame as natural wood. She also replaced the handles to finish the look. If you have a bureau to update, Nicola recommends removing the inner divider if you can, to make it easier to work with.
We think Nicola did a great job with this, and her customer will be able to enjoy using this bureau for many years to come!
Want to get our weekly Nooky Gossip emailed to you each week? No problem click the link below:
I would LOVE to hear what other paint related tips, tricks and treats you would like to know about!
Reply to this email or message me on our social channels at:
Facebook
Instagram
Pinterest
Twitter