Nooky Gossip 25! Happy New Year! New Products from Staalmeester and ClingOn! Colour of the Year Inspo!
Posted by Shereena Starmer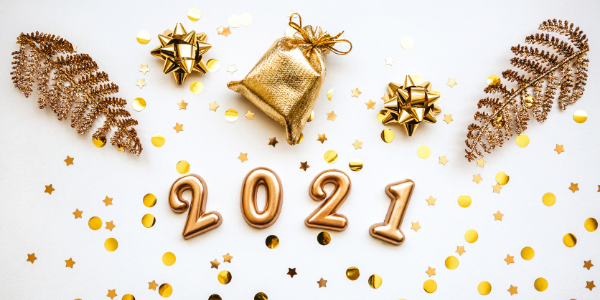 Happy New Year!

2021 is nearly here! And we're wishing all our customers a healthy, happy and prosperous New Year!
What are your New Year's resolutions? Is 2021 the year you finally get your business idea up and running? Is it the year you finally tackle your website?
Yes?! Well great news -we're here to help over at our sister company,
Kouki Limited
!
Earlier this week we launched our early bird offer for our brand new intensive course designed to help you get a functional and good looking website up and running in a week! It's a 7 day challenge starting on Monday 11th January 2021. Just think - by the 18th January your business could be online and taking orders! Don't forget, the
early bird
offer includes
special bonuses
 worth £200 - and the early bird offer
closes at midnight tonight
! For further details and to sign up for the course -
click here
.
Or maybe this is the year to step up your home decor skills, try some new products and expand your DIY repetoire? We've got some new stuff and colour inspo for you below - so keep reading!
New Product!
Update your scraper set with the 
Triangle Shaped Staalmeester Scraper/Stripping Knife
! 
Staalmeester Scrapers are made of the toughest materials, which ensures a longer lifespan and easier use compared to traditional scrapers. Different shapes are good for different surfaces - these are great for stripping paint from mouldings, pipes, window frames and doors!
New Product!
The 
Cling On! Brush Keeper
 is ideal for storing your brushes! Cling On! nylon bristles are designed to be stored in water in-between use. The filaments retain their stiffness in water and return to their original shape. After painting, rinse your brush and hang with the bristles in water - any remaining paint will simply fall off. Amazing!
New Year, New You, New Hue!

Whilst the general consensus is 2021 will be the year of comforting earthy tones, Pantone has announced Illuminating Yellow and Ultimate Gray as their double whammy pick for the year ahead. Their reason for selecting
grey
and
yellow
is to convey "a message of strength and hopefulness". The hues are a classic combo in interior design and the marketing message is perfect for the times we live in, but what do you think? Is this a trend you're going to bring into your home décor? Or are you after the warm, safe, grounding tones announced by Dulux and others as their colours of 2021?

Seeing the colour trends forecast for the year ahead is interesting and thought provoking, but now more than ever I say we should follow our hearts, pick the colours and styles we love, and make our homes our little sanctuary – albeit a sanctuary that is ready to become party central once we can go back to normal and start socialising properly again!!
Whatever look you're going for we have the products you need to kick start that next project.
Here's to a fab and creative 2021!