Nooky Gossip 24! Christmas Edition! Dereks Tree! Christmas Crackers! Kouki Launch!
Posted by Shereena Starmer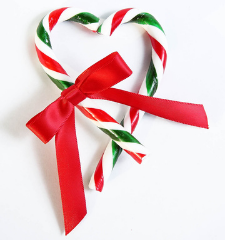 The Gift of Giving
A huge THANK YOU to everyone who purchased a
Painty Peeps Pen
this year! We originally planned to donate 10% of proceeds from pen sales to local charity,
Derek's Tree
, and then match the amount raised to double the total donation. But then we decided, nah, we want to do more than that, we're going to donate
 

ALL of the proceeds
from Painty Peeps Pen sales this year
AND double that amount with a matched donation
from Shabby Nook!! 
That meant we were able to donate £160 of gifts in total to Derek's Tree! Here are just some of the gifts we purchased from their wish list. There were delivered to Derek's Tree HQ in time to be distributed to local disadvantaged kids for Christmas.
What does Santa clean his sleigh with?
Santatizer!
What did Santa do when he went speed dating?
He pulled a cracker!
Who's Rudolph's favourite pop star?
Beyon-sleigh!
Why did nobody bid for Rudolph and Blitzen on eBay?
Who is a Christmas tree's favorite singer?
Spruce Springsteen!
Time For Something Kouki!
As our business grows and develops we find ourselves branching out into new paths which is super exciting! We have decided to keep the retail side and the business support side as separate entities. I am so pleased to give you a sneak peak of the business support side by introducing you to our new company - Kouki Limited!
If you run a paint or craft related business, make sure to sign up for our Kouki Biz emails
here
!
If you are looking to get your business up and running online - we will be running a short course/challenge in January 2021. Register your interest in joining our Kouki Challenge
here
!
Merry Christmas!

Shabby Nook will still be around over the festive break - we will closed for the official public holidays but the website is open 24/7 for all your painty needs! If you fancy some online retail therapy over Christmas you know where we are!
We wish all our lovely customers a very happy and healthy holiday season! It's been a tough old year and we are so thankful for your continued support and for being part of our painty community! We can't wait to bring you more paint tips, tricks, products and more in 2021!