Nooky Gossip 18: Creative Christmas Ideas! Autentico Decoupage Glue! Metallics! ReDesign by Prima Transfers! WooduBend Decorative Moulds! In The Spotlight! Gift Vouchers! Gifts and Homeware!
Posted by Shereena Starmer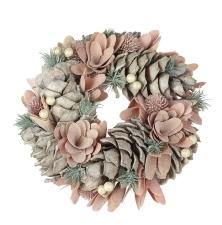 This week we bring you some ideas for how to bling up your baubles and tart up tatty decorations ready for the festive season! You can tailor and tweak the colour scheme and finishes to your own preference making your decorations unique to your home!
How fun is this Santa themed centre piece? It's made using an old paint can (something we all have plenty of!), Dixie Belle Paints in
Barn Red
as the base, tape is painted with
Caviar
for the belt, and the buckle and buttons are painted in 
Gold Digger
and
Fluff
. You could use different colours to make snowmen and elves! Or paint metallic stars on a chalk paint base - so many possibilities. This crafty idea recycles old paint cans and is a fab way for the kids to make their own centre pieces! 
 
Decoupage Decs!
 

Autentico Decoupage Glue

 

is just the stuff you need to get started with decoupaging decorations. You don't need special decoupage paper - you can use your favourite Christmas wrapping paper instead! This is another one to get the kids involved with if you want to keep them entertained!

 

Decoupage ornaments, old candlestick holders, Christmas boxes, - whatever takes your fancy! You could even decoupage some lovely gift tags for loved ones to have as a keepsake.

 

Get hold of this fab glue online today!

 
 
Triumphant Transfers!
 

Transfers are fab for updating your decorations! Decorations don't have to be red, green, gold and traditional Christmas patterns, pick whatever theme you want!

 

How gorgeous would floral ornaments be? Take a look at our range of

 

Transfers from ReDesign By Prima

 

and pick your new theme for Christmas 2020! And whilst you're there don't forget to treat yourself to the fab

 

Transfer Tool

!

 

 
Magic Mouldings!
 

WoodUBend

 

mouldings are fab for adding detail to your furniture - and amazing at adding 3D detail to your decorations! Heat them up and they become flexible and can be easily bent to the desired shape. 

 

Get creative with decorative mouldings - I've seen people apply them to baubles and when they're painted they look so fancy! We have easy to use instructions for WoodUBend on the

 

website

.

 
Ready Made!
 

And for those people who want to buy some decorations that are already made and require no jazzing up - we also have a limited range of Christmas decor in stock like this beautiful

 

sparkling pine cone and bark wreath

, perfect for any front door! Check out our decor and gifts on the website.

 
Gift Vouchers!
 

We will be offering Gift Vouchers in time for Christmas! These are the perfect gift for the creative ones in your life who like to do their own shopping! Valid for 12 months from the day of purchase and available in £10, £25, £50 and £100 denominations. They will be sent as an E-Voucher. If people in your life struggle to buy you the right gift at Christmas - give them a hint to get you some Shabby Nook Gift Vouchers this year! 

Coming to the website soon!
Posted in

Art, Autentico, Christmas, craft, D.I.Y, Dixie Belle, Fusion Mineral Paint, General Finishes, Home Decor, How To, Nooky Gossip, Posh Chalk, Store News, WoodUBend