Nooky Gossip 17: How to Paint a Freezer! Gemstone Mousse! Posh Chalk Metallic Pastes! BOSS In Grey! Miss Mustard Seed! Winter Weather Tips!
Posted by Shereena Starmer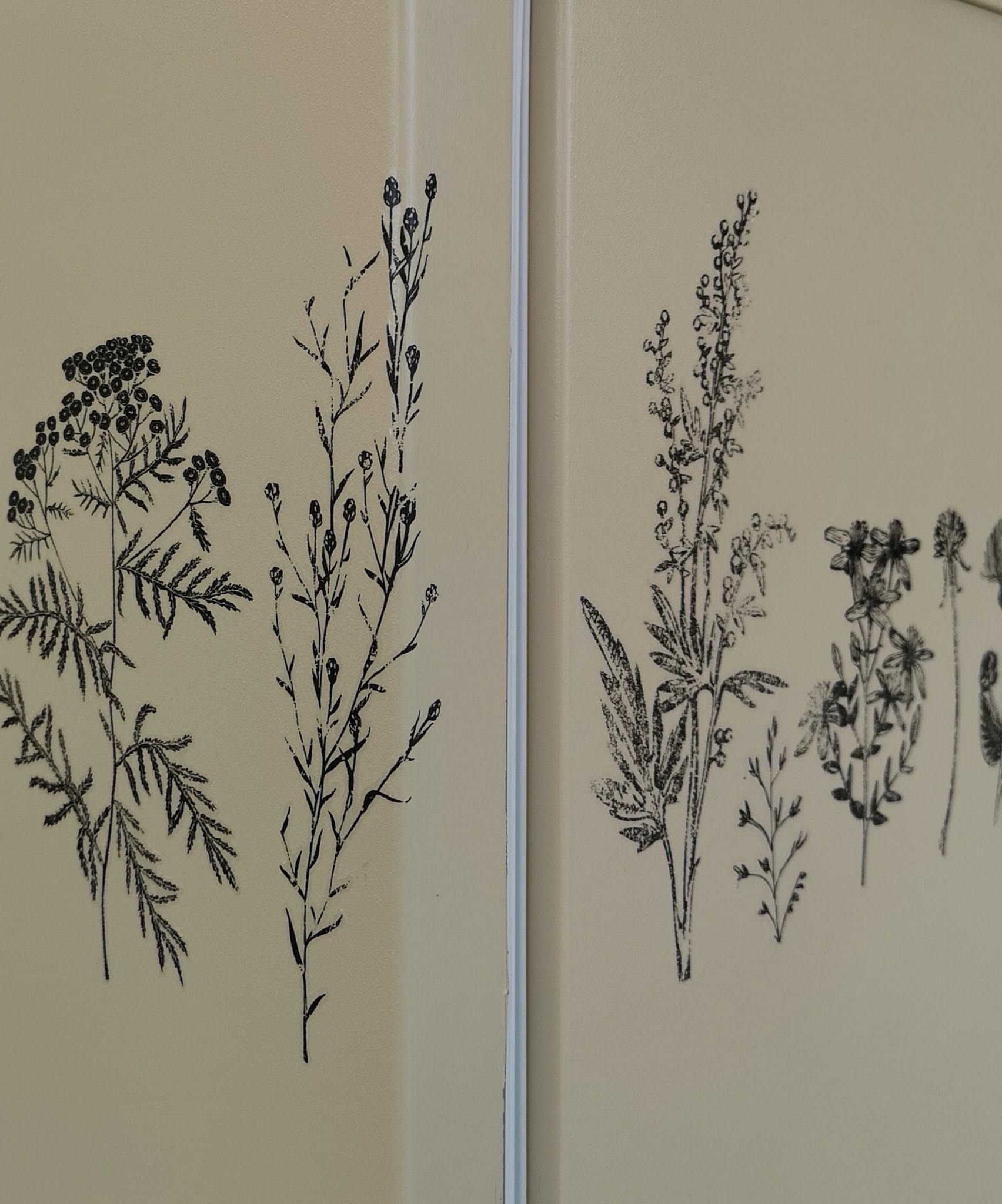 Today we celebrate yet another one of our lovely customer's becoming a Dixie Belle Content Creator! Janette McKay from McKay Designs has worked closely with Shabby Nook for sometime now and we are so proud that she has been made a Content Creator for Dixie Belle! There are only 6 Content Creators in the UK - and 5 of them are part of the wider Shabby Nook family - Jodie Flavell from Decoris Vintage Designs, Connie Clarke from FAFF Designs, Linda Leetham from Annie Loveday Furniture, Laura Downes from Cherubs Chalks Interiors and now Janette McKay. One big reason I love running Shabby Nook is the amazing network of painty peeps we have built around us, and I love working so closely with and supporting such talented people! Congratulations Janette! This is so well deserved! You can check out the gorgeous furniture that Janette has for sale over on her
Etsy page
- including the Vintage French style sideboard, grey and taupe featured in the above photo. 
Floral Freezer!
Be honest, did you know you can paint your white goods? Well, you can! Check out this freezer that Facebook Group member Amanda Hope painted and embellished with a floral transfer! Doesn't it look fab!? Amanda wanted her essential but out of character modern silver freezer to fit in better with her country style kitchen and pale cream range oven.
This technique does take some prep and extra care to ensure a flawless finish. Amanda thoroughly cleaned and degreased with
Grime Cutter
, then scuff sanded and rinsed the surface again. Next, she masked off all the rubber seals and applied 2 coats of
Fusion Ultra Grip
, waiting 12 hours between coats. Then she painted it in 3 coats of
Fusion Mineral Paint in Plaster
, again waiting 12 hours between coats. The
Re Design by Prima Spring Meadow Life
transfers were then applied and finally, Amanda applied 2 coats of a satin wax finish.
The process may be long but it's well worth it for such a gorgeous result! Amanda says people are surprised when they find out you can paint fridges and freezers. She wishes she had done it sooner as it looks so much better and in keeping with the kitchen now. She credits Laura Downes (member AND moderator of the Facebook Group) with giving her advice on the process. Amazing job Amanda and very inspiring! What appliances do you have that look out of place? Could this technique be the answer?
 
NEW! Pre-Order Now!
 

The brand new

 

Gemstone Mousse from Dixie Belle Paint Company

 

is now available to pre-order from Shabby Nook! Available in 4 metallic colours it's a thick and creamy water-based mousse ideal for highlighting details on your furniture and embellishments. If you love using gold leaf, gilding wax or want to add accents to your projects with one coat only, this is the product for you! It can be applied with a finger or paint brush. Expected to arrive mid-November. 

 

 
Bling Up Your Baubles!
 

Looking to add some bling to your decor this Christmas? Then treat yourself to some 

Posh Chalk Metallic Pastes

!  These gorgeous pastes are ideal for adding texture and sparkle to bring your old decorations bang up to date! A versatile product that can be used with heat to create a smooth 3D effect, or use with stencils, stamps or pattern rollers. Suitable to use on a wide range of surfaces and available in 14 colours! Currently on special offer with 10% off!

 
 
NEW! Pre-Order Now!
 

Due to high demand Dixie Belle have created

 

BOSS Stain Blocker in a grey tone

! This is perfect for using under reds and darker colours. This stain blocker stops anything bleeding through, prevents stains, seals in nasty odours and is easy to use! The grey version is expected to arrive mid-November.

 

 
End Of Line!
 

Only a handful of the

 

Miss Mustard Seed Milk Paint range

 

is left. The whole range has been discontinued so once it's gone, it's gone! Make sure to grab some whilst stocks last! And we're feeling generous this week and taking up to 30% off the RRP of the full range we have in stock! Buy today as a cheeky midweek treat!

 
Top Tips for Wintery Weather!
 

As it turns more wintery over the coming weeks here are a few top tips to keep your paint and accessories in tip top condition and keep you painting in the cooler, damp weather!

Make sure paints, topcoats and other accessories are well insulated or bring them indoors to stop them freezing and deteriorating 
The optimum temperature for painting is between 10°C and 21°C - keep an eye on the room temperature if painting through the winter months
Speed up drying time in damp weather by adding an additive such as

 

General Finishes Accelerator to water based paints and finishes