Nooky Gossip 16! Painted Pumpkins! Fusion Mineral Cling On S30! Dixie Belle Silk All in One Paint Sample Sticks!
Posted by Shereena Starmer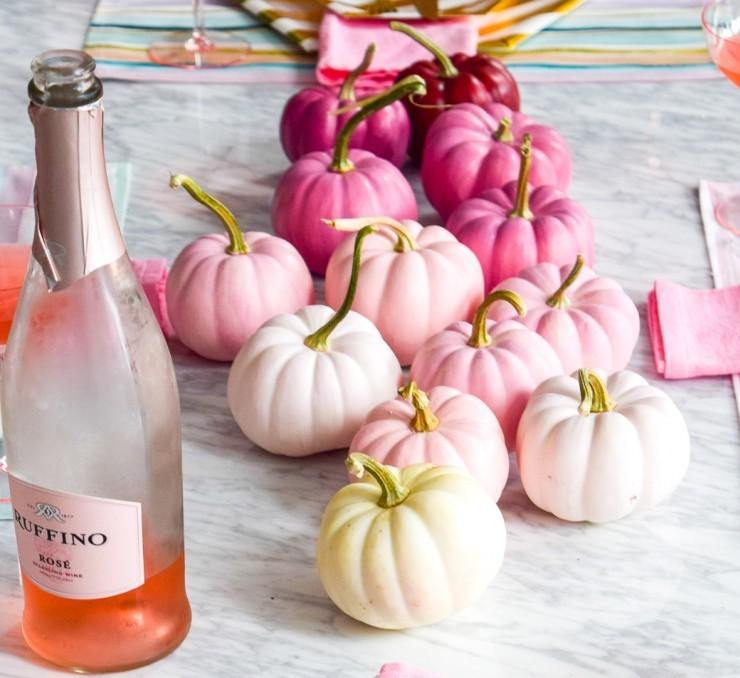 There is a pumpkin theme to this week's Nooky Gossip (or should that be Spoooooky Gossip?)! Whilst getting creative carving pumpkins may be fun, not all of us should be trusted with a sharp knife in our hands! But there is more to pumpkin decorating than cutting out some triangle eyes and a jagged mouth – painting your pumpkins takes them to a whole other level!
There are no strict rules to pumpkin painting – use whatever paint you have at home and have some fun! All the fab paint ranges stocked by Shabby Nook, including
General Finishes
,
Fusion Mineral Paint
,
Dixie Belle
and
Autentico
are ideal for making your very own pretty pumpkins! Here are some ideas to inspire you:
These Pink Ombre Pumpkins are pretty as a picture! Recreate this look by taking a white paint and 2 extremes of colour (in this case a dark pink and a brighter mid colour pink) then mix them together in different quantities to create the range of mixes for your colour gradient. Simply clean your pumpkins and paint them each in a different hue using a small brush. For some extra bling, finish off the stems with some metallic paint!
Who says pumpkins need to be scary?! These are some fun pumpkins! Kids can have loads of fun painting their own funny face pumpkin family!
And for the perfect princess in your life you can make a unicorn pumpkin! Unicorn pumpkins look amazing but are easier than you think to make. Simply paint the base white, sponge on some pale pink blusher, and add some fake eyelashes or paint or draw them on by hand. In this example the horn has been made by twisting air dry foam clay and then spray painting it gold – but you could use a left over party hat or make it out of scrunched up foil and paint in whatever colour you want!
For more painted pumpkin inspo check out this
Facebook Page

 
I found!
Pumpkin Paint Pour!
We're bring you even more pumpkin painting inspiration in this newsletter! Check out this pumpkin paint pour by Facebook Group member, Marilyn Davy! Marilyn used 
Dixie Belle Paints
 in Antebellum Blue and Coffee Bean and and 
Posh Chalk Pigment in 
Byzantine Gold
. 
Don't they look great?! Marilyn says using this technique was fun but messy! Which sounds like it's another good one to try out with the kids. There is a how to guide for paint pouring techniques over on our 
blog
 - this technique can be used on all kinds of surfaces - including pumpkins and other gourds!
 
Back in Stock!
 

The ClingOn Stubby Brush S30 is finally back in stock! This brush is a fantastic all-rounder with a shorter handle, great for  smooth finishes and for blending. It's been out of stock for a while so don't expect these to stick around for long - if you want one make sure to get it soon!

 

 
In Stock
 

Fusion Mineral Paint is in stock and the website is up to date. Midnight Blue is one of our most popular colours - it's an on trend rich dark blue that makes statement. We currently have plenty of Midnight Blue in stock - make sure to get your hands on some before it's gone!

 
Shabby Nook Family Staycation!
The family and I are on staycation this week! We were meant to be going away but it just didn't work out, so we are having some time together at home, having fun and relaxing (and of course, doing some renovation…)! See what we are up to by following our Instagram stories
here
.