Nooky Gossip 93: NEW Paint Essentials For Your Toolkit! Blockade White Shellac Sealer, Siroflex Instant Paintable Caulk and More!
Posted by Shereena Starmer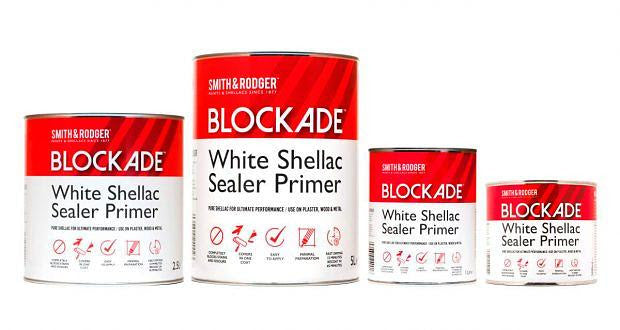 NEW! Blockade - Stain Blocking Shellac Primer
You NEED Blockade White Shellac Sealer Primer in your toolkit. This stuff permanently kill stains and odours, seals knots, covers damage from water, smoke and mould, blocks out stains from nicotine, mould, smoke/fire, water and more, seals in tannins and wood knots, grease and porous surfaces including new plaster, blocks odours including cigarette smoke, other smoke smells and damp AND effortlessly covers dark paint colours, lipstick and crayon marks, rust and ink. WOW! What. An. Amazing. Product!!
It provides excellent adhesion to almost all interior surfaces such as previously coated and new wood, plaster, drywall, porous wallcoverings, metal and tile and requires minimal preparation before use. Blockade is quick drying, saving time on jobs that require multiple coats or to be quickly overcoated with emulsion. The pure shellac base permanently blocks stains and odours, covering even the darkest of colours. Touch dry in just 15 minutes. Recoat after 45 minutes, if required.
Blockade is really popular with people in the industry- it's not quite as stinky and easier to use than the other favourite, Zinsser BIN. AND it's even available as an aerosol spray! I've tried out the spray recently and it is seriously good stuff - so quick and easy to use! I definitely recommend giving this a try!
NEW! Siroflex Instant Paintable Caulk
A high quality acrylic sealant specifically developed to be overpainted with water based and synthetic paints immediately after application. Yes you read that right, you can paint over this stuff instantly - no waiting around for it to dry! This product is for interior use and adheres to most surfaces perfectly without the use of a primer. This product has low odour, does not discolour, is easy to apply and not corrosive towards metals.
Flexible caulk is the best product to use on those
annoying little gaps around furniture you don't see until you have already painted it! It has more flex in it when furniture moves than traditional wood filler, preventing cracking. With no drying time you can just fill the gaps, and get on with painting!
LOCAL MAKERS/ CREATORS/ ARTISTS WANTED!
We are looking to bring in some new artists that are ideally local to Burton (or can ship to us) that create HIGH QUALITY HOME DECOR products to sell in store. At this time we are not looking for craft items.
If you are interested in being a supplier on a commission arrangement we would love to touch base with you! Email in a little about your company, what you make, include photos of sample products and suggested retail prices, and we will be in touch!
LOCAL UPHOLSTERY SERVICE WANTED - REFERRALS!
Our customers often enquire about an upholstery service and so we are also looking for a local upholsterer who can offer a professional upholstery service to our customers on a referral basis.
We work with a local upholsterer who sells her products in store but she does not offer this kind of service.
Please email to discuss further.