Nooky Gossip 57! Furniture Wax Top Tips! NEW Thing-a-ma-jig and Clean as a Whistle from Belles & Whistles! Enduro-Var Offer! NEW Fusion Colours in Stock! Dixie Belle Fan Chart! Brilliant Zibra Brushes!
Posted by Shereena Starmer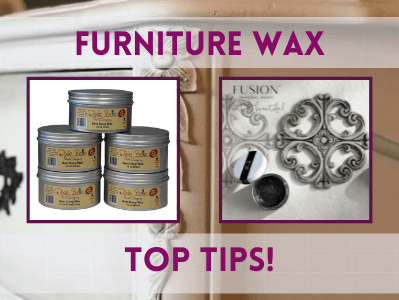 Furniture waxes help protect your furniture and coloured waxes add some dimension to your pieces. We've put together a few top tips so you can get waxing with confidence!
White, pearl and liming waxes can be used as for a whitewash style finish or to add highlighted areas that reflect the light.
Dark waxes create an aged look – perfect for creating an antique finish on a freshly painted piece of furniture. Use in edges and recesses to create a grungy look and enhance detail.
Coloured waxes look great for adding a hint of colour over pale or similar colour tone pieces.
You can colour water-based clear waxes with water-based paint to mix your perfect colour.
Use clear wax before applying a dark or coloured wax to give you more control over the wax placement. Easy Peasy Wax Spray by Dixie Belle Paint Company is fab for this as you just spray on, wait 10 seconds and wipe off the excess!
Apply waxes using natural fibre brushes or a lint free cloth – the shape of brush you need will depend on where you want to apply wax – Value Chip brushes are great for getting into edges and creating a feathery finish, and the Best Dang Brush is fab for applying wax to larger areas. If using a brush, it must be dry!
Easy Peasy wax spray (or any clear wax) can also be used as an eraser! If you don't like where you put some dark wax, just apply some clear wax on top and rub it away with a lint free cloth!
After applying and wiping away the excess, leave the wax on for as long as the instructions say, e.g. Best Dang Wax can be left up to 15 minutes before buffing, Fusion Mineral Paint Black Wax can be left up to 5 – the longer you leave it the stronger the colour.
Lint free cloths are a must when it comes to wiping back and buffing waxes! Microfibre cloths or these applicators pads from Dixie Belle Paint Company are just what you need.
Topcoats can be used over water-based waxes, like Best Dang Wax, for added protection.
Do you have any more furniture waxing top tips? Let us know and we can share them on our socials!
NOW IN STOCK!
The new Fusion Mineral Paint colours have arrived in store! Pre-orders have been posted out - I can't wait to see what you create with them! We also have them in 
tester pot
 sizes - ideal if you're not sure which colours to go for! Anyone who orders from the new colour range will be sent a handpainted colour swatch of all the new colours!
SPECIAL OFFER!
We have extended our offer on Enduro-Var! You can get a massive £10 off the RRP! Enduro-Var is beautiful at enhancing wood – it feels like you've applied an oil finish, but it is actually water-based! It's so clever! It ambers the wood slightly and really brings out the grain. You can also use it over dark paint colours, and it's water resistant.
IN STOCK!
Thank you for all the amazing feedback we have had about Zibra brushes! Aren't they amazing?! If you haven't tried them out yet you are missing out! They come in every shape and size you need and the quality you get is incredible for this price point - they are so durable and easy to use! They hold paint really well and give a smooth finish.
IN STOCK!
The Dixie Belle Fan Deck is fantastic - it gives a really good representation of all the colours in the Dixie Belle Paint Company range including metallics! Fab to have on hand for commission work!
PRE-ORDER!
The Thing-a-ma-jig from Belles and Whistles is an angled squeegee ideal for applying paint with Silk Screen stencils, and creating texture and movement! Expected delivery is end of August.
PRE-ORDER!
Keep your brushes in tip top condition with the new Clean as a Whistle Brush Cleaner from the Belles and Whistles range! It removes build up and dried on paint. Delivery expected end of August.
In the Spotlight this week is upcycler extraordinaire, Sue Tucker, with these super cute bedside drawers! Sue gave them a lush makeover with 
Homestead Blue
 by Fusion Mineral Paint, 
black glaze
 and 
Best Dang Wax
 in Brown. It was Sue's first time using Best Dang Wax and she was very impressed with this creamy textured wax! She found a little went a long way and and you only need to use a tiny amount to have an impact. Sue's also a fan of applying clear wax first if you're not 100% confident of where to apply to colour wax as it is easier to work with and correct mistakes. Thanks for sharing with us Sue, they are such a gorgeous little set of drawers!
For more furniture painting and crafty inspo join our private Facebook Group - Furniture Painting Hub with Shabby Nook! Share your creations, see what our members are up to and get inspired! 
Want to get our weekly Nooky Gossip emailed to you each week? No problem click the link below:
I would LOVE to hear what other paint related tips, tricks and treats you would like to know about!