Nooky Gossip 35: Dixie Belle White Lightning Cleaner Lands in the UK! Prep Your Furniture for Painting! General Finishes Update! NEW Dixie Belle Transfers! Custom Fusion Mix In The Spotlight!
Posted by Shereena Starmer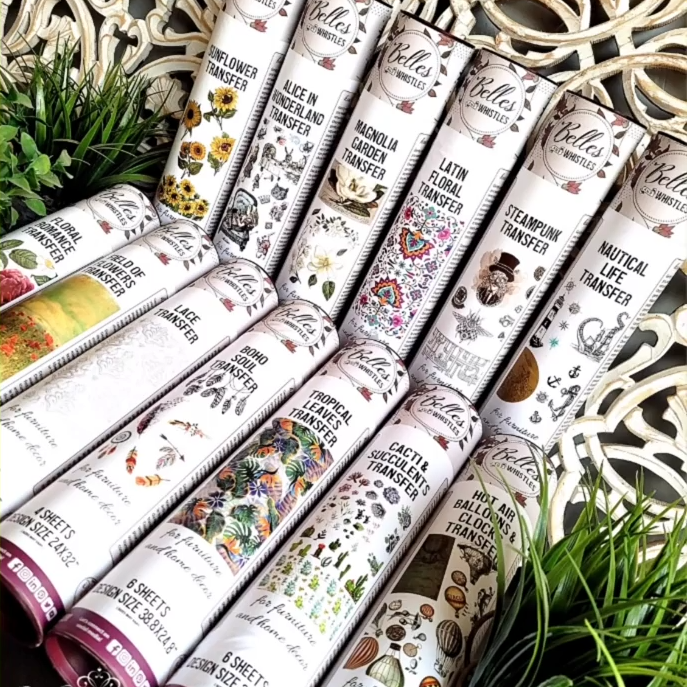 Preparation, Preparation, Preparation!
We're now stocking
Dixie Belle White Lightning Cleaner

 
– yes it is finally here in the UK! This stuff is perfect for prepping furniture for painting (please note it should not be used as a common household cleaner or on metal) so this week, let's talk about prepping!
Your finished piece will only be as good as the base you start with. The type of prep you need to do will depend on the piece you are working on. 
When working with used furniture it's typically been loved for quite a few years i.e., it's been scratched, it's started peeling and it's dirty.
The first step to prep is to give it a good clean.
White Lightning
is just the thing to de-grease and remove all debris from your furniture. Whilst wearing gloves, mix it with hot water and using a clean, lint free
cloth
, clean down your piece. Then wipe it down with a clean cloth and clean water to remove the dirt and residue.
If you're working with a surface that has been waxed this needs to be removed prior to painting.
Bio-Strip
will help dissolve the wax so it can be cleaned off.
Assess the damage - if you're looking for a totally smooth finish, you'll need to fill or fix any dents or damaged areas. You can embrace the imperfections if you intend to age and distress your piece, or use
Dixie Belle Mud
to fill in scrapes, gouges and holes.
Working on a glossy surface? Give it a quick scuff
sand
along the surface to de-gloss.
If it's a VERY glossy, shiny, or laminate type surface and paint is just going to slide right off it, use
Slick Stick
or
Ultra Grip
to strengthen the bond between the furniture and the paint.
BOSS from Dixie Belle
B
locks
O
dours,
S
tains and
S
tops Bleed-through. If the furniture you are working on is smelly (nicotine can be impossible to get rid of by cleaning alone) use BOSS to block it. If you think it may stain or bleed-through (typical when working with woods like cherry or mahogany) use BOSS to block it. And if you experience bleed-through after you have started painting and think 'whoops, I should have prepped with BOSS' it isn't too late!! Use it over the paint and once dry, paint over it in your chosen colour.
One last check that all grit and debris is removed, and the piece is dry - and you are ready to get painting with your chosen paint! Taking a little extra time before painting will ensure your finished piece will look beautiful and professional.
In the spotlight this week is Sharon Guy with this gorgeous green/black 1930s cabinet! Sharon used a custom mix of 2 parts
Pressed Fern
to 1 part
Coal Black
to create this dark, rich and expensive looking shade of green. She finished it with a black
glaze
.

Sharon says it was her first-time using glaze over an entire piece of furniture and the black glaze added depth of tone to the green. There are areas of black where more of the glaze settled, giving an extra dimension to the paint finish and resulting in a more 'aged, but not distressed' look.

Doesn't it look lovely?!
For more inspiration, top tips and connections with other painty peeps make sure to join our private Facebook Group Furniture Painting Hub – With Shabby Nook today, and don't forget share your own work!
General Finishes Update
We are crossing all our fingers and toes that 
General Finishes
 will be available for us to order from the distributor very soon! If you are absolutely desperate for a General Finishes product that is out of stock – reply to this email with your General Finishes shopping list and we will create a pre-order for you. We won't take payment until it is confirmed we can order again.
New Product Alert!
Super exciting news from Dixie Belle – they are bringing out a NEW transfer and decoupage line in their Belle's & Whistles range! Brushed By Brandy has made a video showing the designs which you can check out 
here
. They aren't on the website yet but if any take your fancy, reply to this email, let us know what you're after and we will create a pre-order for you!
A
re you a creative business owner with a Shopify website? Then join us in Evolve – a monthly subscription business community just for Shopify owners! Our sister company, Kouki Limited, has now opened Evolve for enrolment. Click 
here
 for further details and to join!
I would LOVE to hear what other paint related tips and tricks you would like to know about!