Nooky Gossip 13: Meet the Shabby Nook Team! Brand New Orange Gold Posh Chalk Pigment! Painty Peeps Pens!
Posted by Shereena Starmer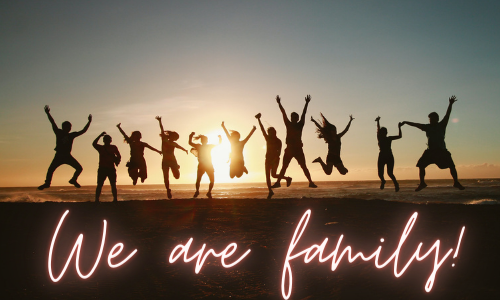 T
here are some very important players in the world of Shabby Nook that I would like to introduce you all to over the next couple of weeks! These are the people that help keep Shabby Nook up and running and I wouldn't be able to do it without them. 
Their profiles will be featured on our social media too, so to find out more make sure you are following us on Facebook and Instagram! 
 
Rob Starmer
'General Dogsbody'
 

My husband, Rob, is my knight in shining armour when things go tits up! He really is a jack of all trades – from waste management to delivery man, he does it all. And he does it all for love and NO money! I can't even begin to tell you the number of times he has come to the rescue!

 
Lydia Starmer
'Head of Packing'
 

My eldest, Lydia, is my wonderful Saturday girl! She processes orders and does the picking and packing so all you lovely people can get your latest purchases! She strives to be the Fastest Paint Packer in West but, at the moment, I still hold that particular trophy!

 
Eliza Starmer 
'Muse'
 

My youngest, Eliza, inspires me to pick up my brush and get painting again when I get distracted by admin! She loves helping out and getting creative. She is also fab at making paint displays – watch this space for a sneak peak of her latest creation!
 
Charlie Starmer 
'Finance Director'
 

Every business needs someone keeping the finances in check and in this case, my son, Charlie, is that person! Not a week goes by without him complaining about me buying more furniture. He keeps us all smiling with his antics and cheeky stories which is always welcome after a hard day at work! 

 
April Fitchett
'Assistant Paint Guru'
 

April is a brand spanking new addition to the Shabby Nook fam – so new in fact she doesn't actually start until 1st November! April will be helping with the day to day running of the unit by processing orders, answering customer queries and helping out with some paint jobs. Fun fact – April is also my mum!

 
Stay Tuned...
 
 

Meet more members of our extended Shabby Nook family in next week's issue! 

 

Who will it be?!
 
Posh Chalk - New Colour!
 

We have restocked the fab pigments from

 

Posh Chalk

 

and are now selling the gorgeous

 

brand new

 

Orange Gold

 

pigment! Use Posh Chalk Pigments to create your own metallic paint by mixing it with topcoat, or mix it with any varnishes, waxes or even water! Or stick it directly onto a wet or tacky base. It's a versatile product - why not try it in an

 

acrylic paint pour

 

to add some bling to your artwork?

 

 
Painty Peeps Pens!
 

You may have noticed that when you checkout now you get an option to add a cheeky

 

Painty Peeps Pen

 

to your order! This is a reminder that 

10% OF ALL SALES

 

of our Painty Peeps Pens purchased up to

 

15th December 2020

 

will go towards a fab local

 

charity

, 

Derek's Tree

, 

AND whatever donation we raise through sales will be matched by Shabby Nook!

 Snap one up today!

 
Want to get our weekly Nooky Gossip emailed to you each week? No problem click the link below: