Nooky Gossip 14! Meet The Fam Part 2! Fusion Restock! Commission Work! In the Spotlight! Big Mamma Butta Special Offer!
Posted by Shereena Starmer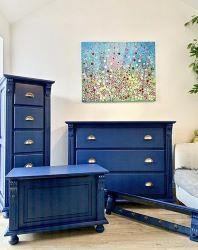 Following on from last week's newsletter I would like to introduce you to the wider Shabby Nook family. Although we are very much a family run business, we also have some wonderful help from "Outsiders" – who now feel part of the family! They help to keep Shabby Nook running smoothly and I'm very thankful to have them with us.
This week we feature Laura, Sue, Linda and Connie who, together with me, make up the Famous Five! They help me out as admins and moderators on our Facebook Group and run their own painty businesses too! We like to collab where we can so I wanted to introduce them all to you. Also featured are Olympia and Olivia (and yes, I do get their names mixed up!) who have been working with me virtually over the last few months. 
 
Laura Downes
"The Baby"
 

Laura is like a Duracell bunny - she never stops! She is smashing it at selling her furniture on Etsy and is a top sales woman! As the baby of the group, Laura entertains us with her young antics - she is always up to something!

 
Sue Tucker
"The Wacky Aunt"
 

Sue is one of our fab affiliates and an official Shabby Nook partner. Sue always has a great outlook on life and is the person to go to if you need a pick a me up! She is also very funny and never fails to make me smile! 

 
Linda Leetham
"The Mum"
 

As well as a talented painter, Linda is also a fantastic photographer. Famous amongst painty peeps she gives fab a pep talks. Linda always makes time to help others and has spent many an hour on the phone with me!
 
Connie Clarke
"The Fierce Sister"
 

Connie is the feisty one who always sticks up for her mates! But underneath all the bravado she is a teddy bear! She is a big help with Shabby Nook and is the painter in residence when we have an excess of commission work.

 
Olympia Nolan
"Marketing Guru"
 

Olympia is my ace marketeer who works her magic creating a marketing strategy and fab content for our social media pages. A big fan of mid-century modern decor, she also runs our weekly Shabby quiz over on instagram which you can join

 

here

!

 
Olivia Standbridge
"Editor-in-Chief"
 

Olivia is my fab VA who gets Nooky Gossip out each week as well as other admin tasks that I no longer have the time for! With a background in HR she is also helping me with all the things I need to do now I have become an employer!
 
Back in Stock!
 

The fabulous Continuous Fine Mist Spray Bottle from Dixie Belle is now back in stock! This great little gadget is just what you need to keep brushes damp, do blending techniques and for creating faux finishes. Buy yours today by clicking below!

 

 
Now Stocking Bigger Sizes!
 

Due to popular demand we are now stocking 32oz pots of all Dixie Belle

 

Top Coats

,

 

BOSS Stain Blocker

,

 

Slick Stick

 

and our top 10 bestselling

 

Chalk Paints

! The bigger sizes are perfect for those bigger projects that you just want to finish before Christmas! 

 
 
Fusion Restock!
 

Fusion has been flying off the shelves and we have just put in for another order which will be arriving very soon! Keep an eye out on our social media pages and our website for updates. Head over to our website today to take a look at current stock and if you see something you fancy, don't delay in adding it to your basket - this stuff doesn't hang around long!

 

 
Commission Work!
 

Are you based in or around the Burton Upon Trent area?

If the answer is yes, we have great news for you! 

Shabby Nook will soon be opening its doors again to take on commission work! 

Please contact us for a quote and video consultation. We will start new commission work in January 2021. 

 
Tucker's Tallboy
With a second mention in this week's Nooky Gossip is the sensational Sue Tucker! How fab is this luxe tallboy chest of drawers?! Sue painted it using
Fusion Mineral Paint in Midnight Blue
and finished with
General Finishes High Performance Top Coat in Flat
. It looks so expensive and luxurious! Sue shared her creation in our private Facebook Group, the Furniture Painting Hub with Shabby Nook. To see more gorgeous makeovers, get top tips from those in the know, and to feel part of our painty peeps community join us by clicking the button below!
Special Offer!
 

So...we got a bit trigger happy purchasing Dixie Belle's Big Mamma's Butta - Unscented and now have a surplus of stock... but that is good news for you lot as it means you can get it at a lower cost! This stuff is ideal for reviving and nourishing wooden furniture, inside of drawers, inner casements or evening over the top of painted furniture. Head over to the website to buy yours today before they go back to full price!