Nooky Gossip 69: NEW Shop and New Posh Chalk Precious Range Released!
Posted by Shereena Starmer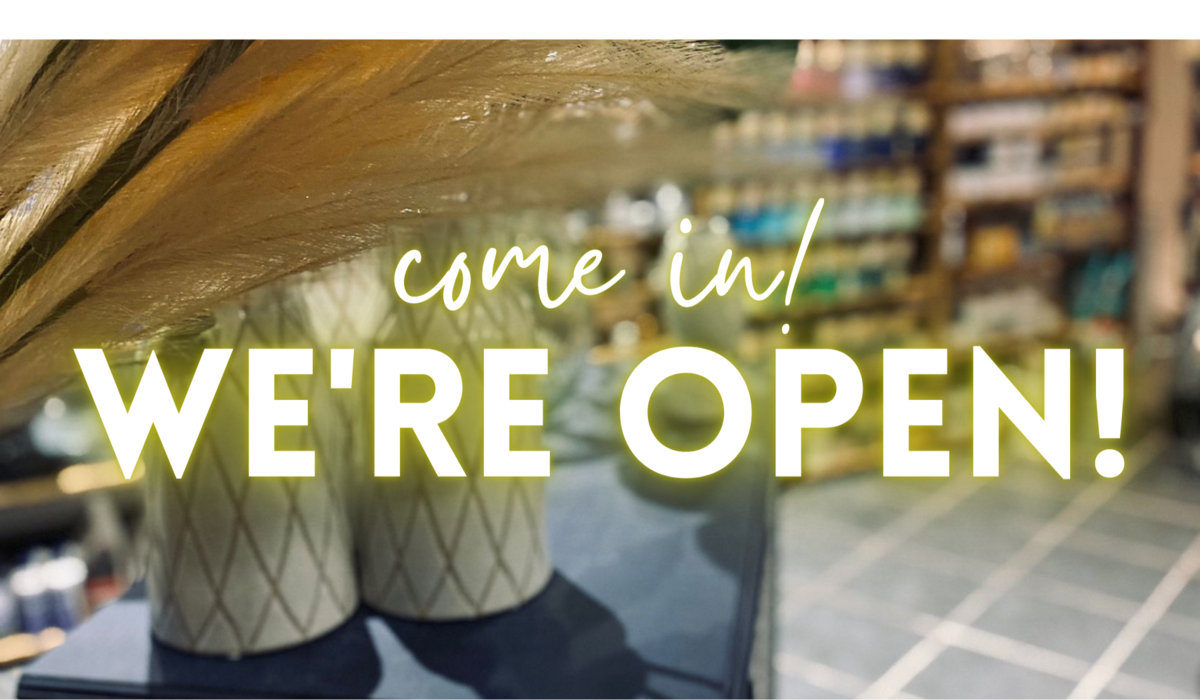 WELCOME TO SHABBY NOOK!
We did it! We're open! Customers are now welcome to come and shop at our beautiful brand new shop premises - we're located at 82 High Street, Burton
.
We are open Mon-Saturday 10am-3pm EXCEPT this Saturday! Believe it or not we can't open on our first Saturday as it is our daughter Lydia's 18th birthday! 🍾 We will be having a special family day with her to celebrate and so if you're looking to pop down on a weekend, please wait until next week!
There are some absolutely beautiful products available in store - in addition to our usual brands we are have the lovely Whitewillow & Smith
joining us in the shop! Jayne from Whitewillow & Smith is a highly experienced, fabulous and local furniture painter and upholsterer.
These pictures showcase a few of her pieces. Pop into the shop to see her beautiful furniture and soft furnishings in real life - I am sure you will love them just as much as I do! They are high quality and absolutely gorgeous. Jayne is providing all the upholstery for the shop - so her wares come highly recommended by Shabby Nook! I love being able to be able to work with another local company!
NEW PRECIOUS RANGE!

The new Posh Chalk Precious Collection is finally here after over a year of planning. We know the Posh Chalk Pigments, Pastes and Patinas are already brilliant - but the new Precious range offers even more! With pearlescent finishes and diamond sparkles they are just what you need to add that extra sheen to your projects!


PRECIOUS PIGMENTS
These pigments are a little more subtle than Posh Chalk Pigments, a little more understated, but no less eye catching and head turning. The pigments come in three pearlescent colours: Platinum Gold, Diamond Gold and Wedding Gold. Add a classy sheen to your projects with Precious Pigments.
SHOP NOW!
PRECIOUS PASTES
The new pastes can be best compared to the Smooth Metallic Pastes, but they're just that extra bit more special. The colours of the Precious Pastes are more brilliant than the current line of pastes, they're more vivid, and they are also pearlescent. Available in 24K Gold, Radiant Silver and White Gold.
SHOP NOW!
PRECIOUS PATINAS
These Patinas are incredibly highly pigmented and are designed to pick out the intricate details of mouldings and create subtle shading effects. Unlike regular oil based gilding waxes, these gilding creams are water based – this means that they dry in seconds. They are brilliantly rich in colour and available in Radiant Gold, Royal Gold and Royal Silver.
SHOP NOW!
DIAMOND DUST
Last, but by no means least, something extra special to top off the Precious range. Diamond Dust. Created with real Swarovski Crystals the Diamond Dust can be combined with paints, pastes, pigments – whatever you can think of – to create some sparkling, shimmering, sublime texture, or sprinkle over the top whilst still wet to add some sparkle.
SHOP NOW!
FUSION MINERAL PAINT
There has been a price increase across many products in the Fusion Mineral Paint range. We understand that a price rise is never ideal and Fusion have worked hard to avoid it. There have been significant increases in shipping, packaging, materials, manufacturing and post-BREXIT regulations, and price increases have had to be made.
An example of the price change is that all 500ml pots of Fusion Mineral Paint will increase from £21.99 to £23.99.
The price increase was implemented by Fusion on 1st November 2021. We will be updating to the new prices on our website on Monday 8th November 2021 so if you were looking to buy something, buy now to purchase products at their current price!
SHOP NOW!
How pretty is this dressing table?! Mary Gregory shared photos of her furniture transformation in our Facebook group. Mary updated the piece by first prepping and priming with Autentico Primer and then painting it a lovely soft dusky pink tone with Massai and Antique Rose from the Autentico Versante Eggshell paint range. The transformation from purple to gorgeous romantic pink is just lovely. What an amazing finish - it's flawless!
Mary is a big fan of the Autentico range because it is so versatile and a great quality paint. We completely agree! Don't forget we currently have an offer on our Autentico core range - buy one product, get another half price (the lower priced item is half price)! There is no better time to try out this fab range!
For more furniture painting and crafty inspo join our private Facebook Group - Furniture Painting Hub with Shabby Nook! Share your creations, see what our members are up to, and get inspired!
Join Facebook Group!