Nooky Gossip Issue 3: New Product - Woodubend, Omniclean, Paint Wars & In the Spotlight
Posted by Shereena Starmer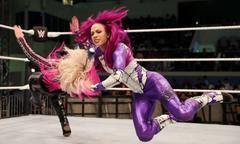 In the Spotlight!
In the spotlight this week is this gorgeous pink and floral stag wardrobe - it truly is pretty as a picture! This look was created by Laura Downes who a member of our private Facebook group, Furniture Painting Hub - With Shabby Nook. Laura used Shabby Nook materials to create this botanic masterpiece. The pink colour is Dixie Belle Tea Rose and the transfers are Re Design with Prima in Wondrous Floral II. Laura says 'I keep painting everything pink and Dixie Belle Tea Rose is my favourite!' We can see why, Laura - it's blooming beautiful! There was a lot of love for this lovely design from the group! Recreate this look for the princess in your life (or yourself!) and get even more design inspo from the Facebook Group - click the button below to join, all Shabby Nook customers are welcome!
 
New Product Alert!
 

We are now stockists of WoodUbend! Whoop! WoodUbend is a revolutionary and unique type of decorative moulding. It has all the properties of wood, and can be drilled, sanded, glued, painted, stained, varnished, or distressed and can even be bent as desired when heated up! It's not up on our website yet but keep your eyes peeled! Feel free to email us for more info.

 
Stock Update!
 

We know you are missing our amazing Grime Cutter and we are too (it's the most amazing cleaner for furniture prep ever)! We are working on it! But in the meantime, we have the fab Omniclean by Autentico in a massive 1 litre size, ideal for trade, or a 250ml size. It's a concentrated mix and we have had really good feedback about its cleaning power.
The world of furniture painting has become a confusing place. As more and more brands come to the market is too much choice a good thing? Fellow painting enthusiasts find themselves asking opinions in Facebook groups which then leads to brand stockists entering the ring to fight it out wrestle mania style to win the customer over. Hugggggh enough already!
 I myself retail many brands of paint, as well as accessories that compliment them from other industry brands. I like choice, I like to have the facts and I like to think I educate customers well enough to make an informed decision when deciding what product is right for them and the project in mind.
You will probably have a core fave and then pick and choose products from other brands which is perfectly OK! It is OK to flip between brands to suit the needs of your project.
Brand loyalty too often gets in the way of making the right decision for your skill set, the style and the needs of the furniture. Do your research and make an informed decision, ask questions and try a few different brands. Part of the process of learning to paint well is knowing what types of paint do what... You will soon be on your way to finding your painting groove!
Want to see what brands we offer? Well it's a few so here goes:
Fusion Mineral Paint
,
Miss Mustard Seed Milk Paint
,
General Finishes
,
 

Autentico
,
Dixie Belle Paint
,
Cling on
,
Staalmeester
,
Redesign with Prima
,
Posh Chalk
, WooduBend,
Whitson's
,
Art Philosophy
, Syn-Pro,
Poly-Gen
.
Here's a peek of me recently finding my paint groove. It wandered off for a wee while whilst my head was locked into business mode and doing a pivot as such, but guess what!? As soon as I had clarity and made some firm decisions, my need to be creative returned. I have used every brand we sell! 
 Want to get our weekly Nooky Gossip emailed to you each week? No problem click the link below: