Nooky Gossip 80: Introducing - The Desert Collection From Dixie Belle!
Posted by Shereena Starmer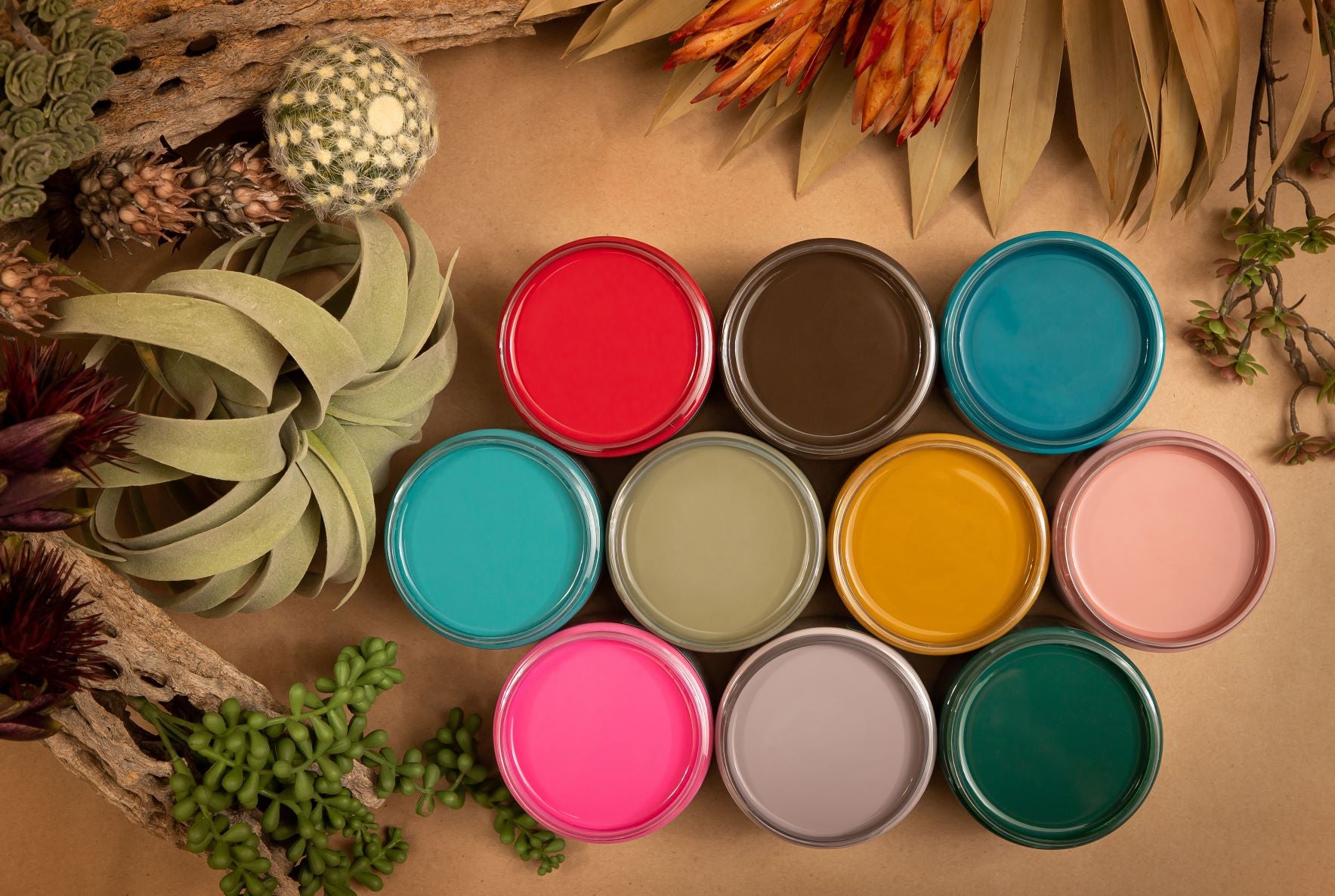 Dixie Belle have just released 10 brand new colours in their fabulous
Silk All In One Mineral Paint

 
range - and they are inspired by the desert! What a stunning array of colours - and much warmer than the cool tones of the previous
Hamptons
inspired release.
If you haven't used Silk before, you are about to be converted! Silk All In One Mineral Paint has a built in water based primer and stain blocker AND a built in top coat. It's UV resistant, waterproof, mildew resistant, and has low VOCs. You can even use it outdoors! It dries in 2 hours and cures in 30 days. Silk has a soft low sheen finish - for added protection or a different finish you can also apply your choice of
top coat
.
Let's take a closer look at the new colours on sale now at Shabby Nook!
Fiery Sky is a passionate, rich red that will add vibrancy to your home.  This feisty colour has a slight bluish undertone.

This deep blue-green teal is a breath of fresh air. A refuge from the ordinary, this colour will bring life to your space.

A natural, earthy, brown pigment. Rich in tone, depending on the light source or time of day, it may appear as a mud bath on your piece.

An alluring, deep mauve with a bit of grey undertones. Try pairing this colour with yellow accents to bring an energetic vibe to your furniture.

A faint, soft lilac that is the perfect colour to wake up to each day. This tranquil colour is sure to become a fan favourite.

A timeless, deep, and mysterious shade.  A touch of deep blue can be spotted in this colour just like the witching hour.

An elaborate brown/gold colour that will have you dreaming of desert sands.  Immerse yourself into this golden delight and fill your home with this warm hue.

A reminder of the vibrant colours, like the pink prickly pear flower produced in the desert. This romantic shade of deep, cool pink is feisty, yet pleasing.

 

 

 

 

A calming colour.  Reminiscent of the desert illusion, this dreamy blue-green hue with touches of grey is certain to create a nomadic atmosphere.

 

Just like the popular succulent, this colour will become a popular household mainstay. This hue is a gorgeous muted green with grey undertones.
We went into the Facebook group archives this week to find the perfect Silk All in One Mineral Paint furniture project for in the spotlight - and there were soooo many gorgeous pieces to choose from! Finally we settled on this stunner from Laura Downes that she shared with us back in April. Check out this one of a kind piece!
This actually started life as part of a dresser but was transformed into a funky bookcase by Laura. She painted it with
Salt Water
and
Serenity
paints from Dixie Belle's Silk All in One Mineral Paint Paint
Hamptons Collection
. She added
gold leaf
where the two colours meet and sealed it using Dixie Belle's
Satin Top Coat
. To complete the look she finished by adding the white legs. What a show stopper! We can't wait to see what she does with the new
Desert Collection
!
For more furniture painting and crafty inspo join our private Facebook Group - Furniture Painting Hub with Shabby Nook! Share your creations, see what our members are up to, and get inspired!