Nooky Gossip 73: Join An Evening of Fun and Giggles!
Posted by Shereena Starmer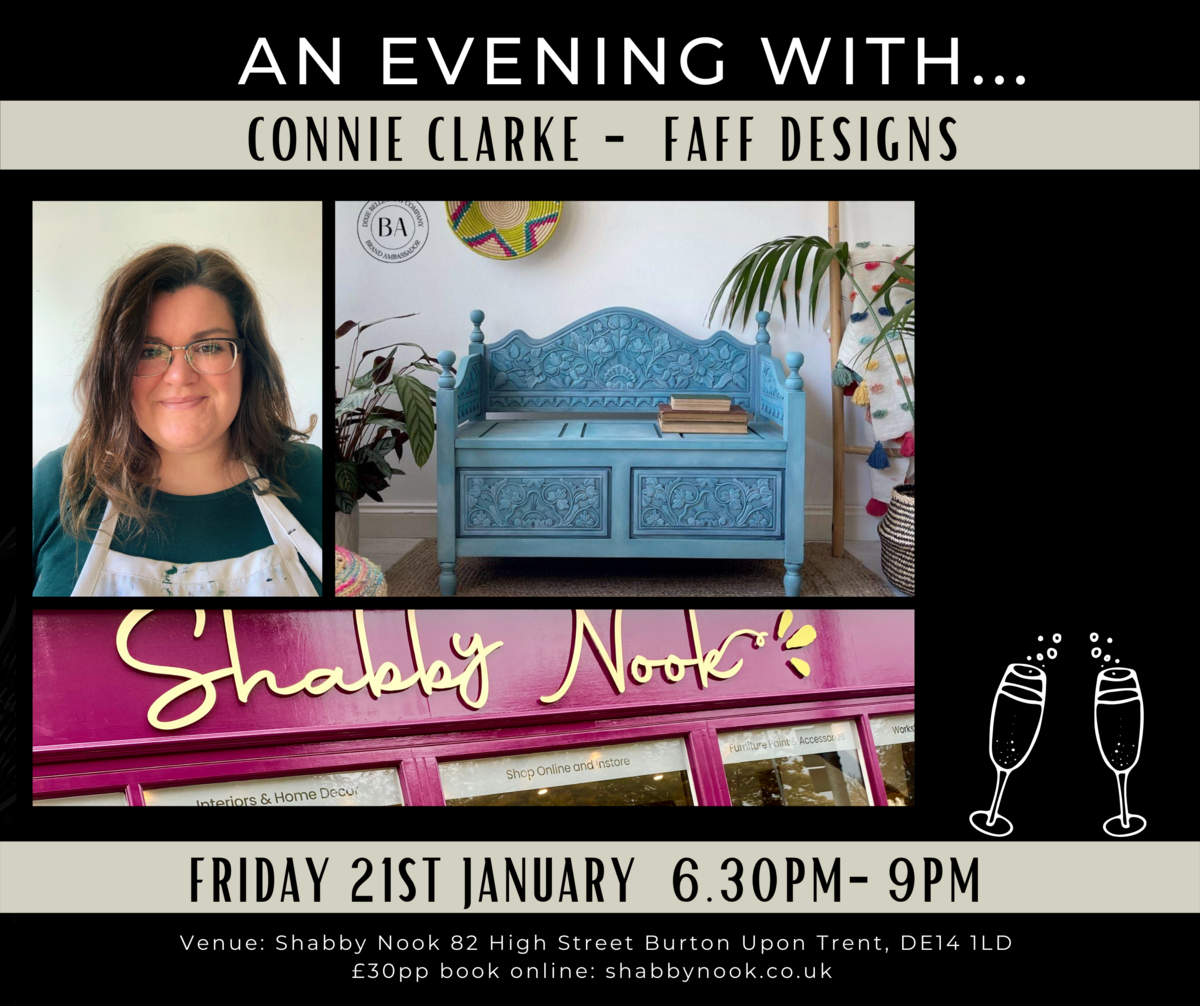 Introducing.. 'An Evening With...'
I am super excited to announce our first "An Evening With…" event for 2022! And I am over the moon to announce our first evening is with the epic
FAFF Designs
!
Join us for
 

'An Evening With….Connie Clarke from FAFF Designs'
at Shabby Nook's new retail store on High Street Burton Upon Trent on
Friday 21st January 2022
, for an evening of fun, laughter, and watching Connie demonstrating.
Starting at 6.30pm you will be greeted with a glass of Prosecco and some nibbles, then sit back and watch the master of colour at work!
Connie, who is a Dixie Belle Ambassador, will be demonstrating her fabulous skills and creating furniture pieces with the use of Dixie Belle Paint and accessories as part of our Dixie Belle Week in January 2022.
Connie is also a great entertainer with her bold and fun personality! You will have a chance to ask questions about her rise to fame in the paint world, how she juggles her business and homelife, and get some insider secrets as to how she has built her successful business.
There will be a chance to mooch, natter and shop with
10% off any purchases
made that evening. If you would like to join us for this fun social event we would love to have you! We are located next to a micro pub, a pizza place and an Italian restaurant so you can make a whole night of it. If you aren't local I can recommend some local places to stay over night too!
Tickets cost just
£30pp
and are selling fast!
What a cracker of a Christmas present this would be for someone (or yourself!) Or come with friends and get rid of those January blues!
FESTIVE DELIVERY UPDATE
Delivery delays are expected on the run up to Christmas. Thank you for your patience. Due to the Christmas holiday there will be a change to order processing and shipping procedures.
Last Shipping Before Christmas: The 23rd December 2021.
Limited Shipping: Orders will be shipped on 29th and 30th December 2021.
Normal Service Resumes: From 4th January 2022.
CHRISTMAS OPENING TIMES
You will be able to order on the website throughout the festive period, but the shop and customer service will be closed over Christmas, and a reduced service will operate between Christmas and New Year.
Closed: 24th -28th December 2021 and 1st - 3rd January 2022.
Limited Opening: 12-2.30pm 29th - 31st December 2021.
Normal Service Resumes: From 4th January 2022.
DIXIE BELLE PRICE INCREASES
From the 1st January there is a price increase on Dixie Belle products. These increases have come directly from Dixie Belle due to at least a 20% increase in raw material costs and freight prices. An example is the price of 16oz paint will increase from £24.95 to £26.25. Buy before 1st Jan for current prices.
SHABBY NOOK GIFT VOUCHERS
If you're not sure what to buy for the fussy furniture painter in your life (or perhaps you would like a loved one to buy you something but you're not sure what yet!) Shabby Nook Gift Cards are a great idea! Redeemable against any of our collections including our workshops and events!
Beginner's Workshops 2022
Don't forget our "Bring Your Own" Beginner's Furniture Painting Full Day Workshops are running on the following dates:
Saturday 15th January 2022
Saturday 12th February 2022
Saturday 5th March 2022
Wednesday 6th April 2022
Workshops make an amazing gift for anyone new to furniture painting - and our gift vouchers can be redeemed against workshops!
For further information on this fab workshop and to book your place click the button!
This week Katie Banyard is in the spotlight with this bright and beautiful nest of tables! With the weather outside looking a bit grey these are just what you need to bring some colour back into your life! They are such a gorgeous idea for your own home OR to make someone a stunning crafty Christmas gift that they will cherish for years to come!
Katie updated the nest of tables using Fusion Mineral Paint in Little Star, Renfrew Blue and Midnight Blue with a CUREiously Pinktrim. She created her own decoupage by using up some wallpaper she already had. This is a great tip to help tie a home décor theme together! To use the wallpaper as decoupage Katie first cut out the images she wanted, soaked them in water, peeled off the backing paper and stuck them to the tables before sealing. We recommend using a decoupage medium like Fusion's Decoupage and Transfer Gel. Thanks for sharing this amazing transformation with us Katie!
For more furniture painting and crafty inspo join our private Facebook Group - Furniture Painting Hub with Shabby Nook! Share your creations, see what our members are up to, and get inspired!