Nooky Gossip 66: Brand New Brush Collection from Posh Chalk!
Posted by Shereena Starmer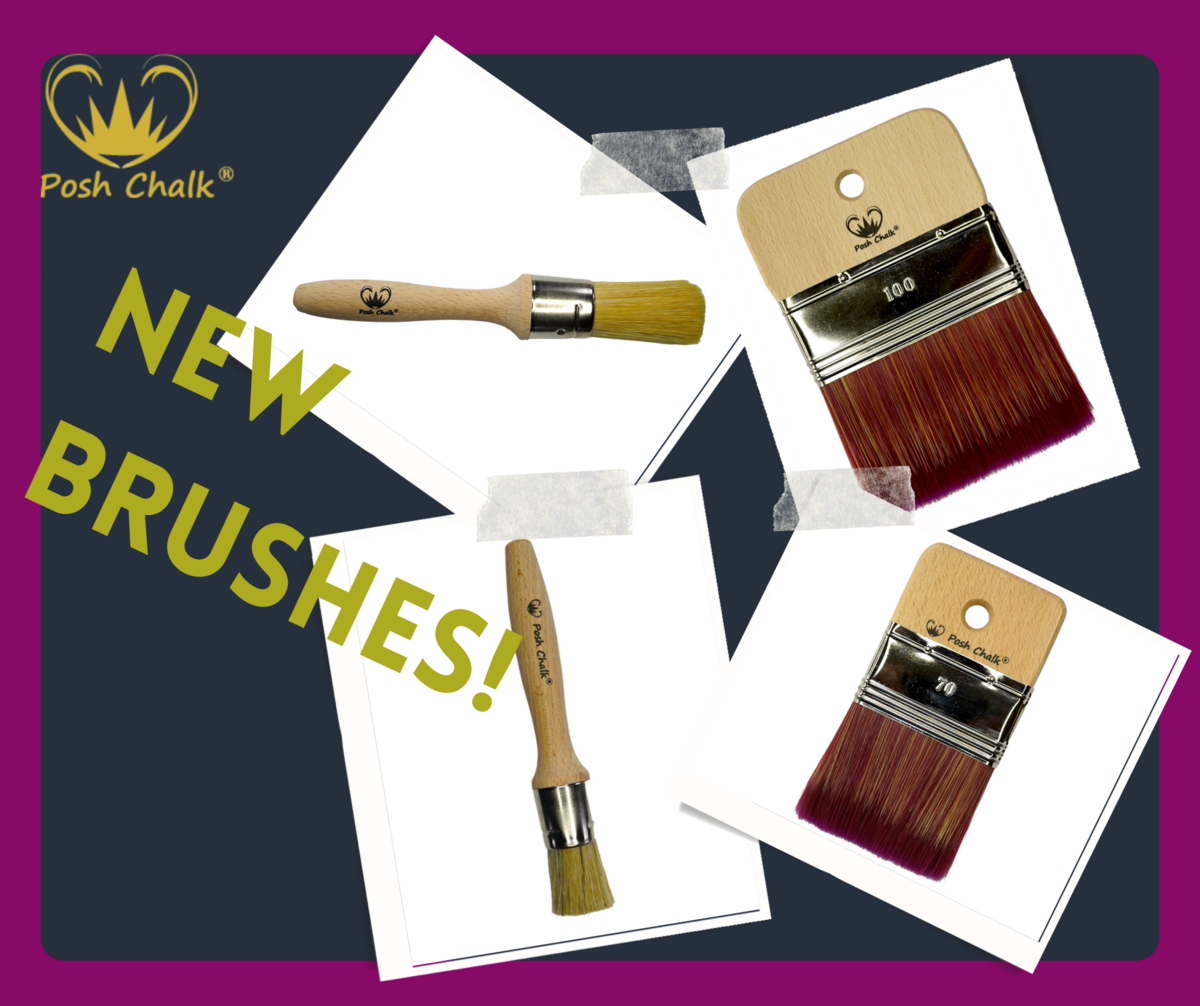 Posh Chalk have just released their own amazing brush collection! Posh Chalk Premium Brushes have been created to work alongside the Posh Chalk Coatings and Artisan Range. They are high quality Italian brushes and the collection is now available to purchase at Shabby Nook! There are currently four brushes in the collection with a fifth coming soon!
Smooth & Blend Brush - Small & Large
A beautifully soft fine bristle that is a spalter like shape, perfect for working with Posh Chalk Decoupage Papers to smooth out and apply Infusor. Paint or blend metallics as well as your preferred paint. These brushes wash extremely well and are top of the class for a flawless application. 
Natural Bristle Wax Extender Brush 
A natural bristle round wax brush with a comfortable wooden handle. Works great with all the Posh Chalk Waxes but especially good for faux effects and using over WoodUBend. 
Natural Bristle Stencil Brush 
A short firm round natural bristle brush for stippling or swirling over the top ofPosh Chalk Stencils. Excellent hardy stencil brush. Has a shorter length bristle to enable strength and firmness for even application.
NEW & AVAILABLE TO PRE-ORDER!
Belles & Whistles Decoupage Rice Papers - New Designs!
Dixie Belle have added some gorgeous brand new Decoupage Papers to their Belles & Whistles collection and we're super excited about them! New designs include Peony, Ballerina, Distressed Damask, Art Deco Birds and more!
Use to create one-of-a-kind, blended, and detailed pieces, with little or no thickness and texture. Belles and Whistle Decoupage Rice Papers have the strength of a heavy weight paper but are delicately thin like napkins, meaning you have the best of both worlds to create stunning authentic decoupage finishes that are easy to use but don't wrinkle or tear. Their versatility is perfect for big pieces of furniture AND the smallest of craft projects. Pre-order now - expected to arrive in store mid October.
Laura from Cherubs Chalks Interiors returns to In the Spotlight this week with someBelles & Whistles Decoupage Rice Paper inspiration for you! Laura gave this bureau a delicate floral makeover using Dixie Belle products. The bureau was painted in Silk All-In-One-Mineral paint in Salt Water and the detailing and hardware were highlighted with Gold Gilding Wax. For the
pièce de résistance, Laura added super pretty Spring Flower Decoupage Rice Papers to the front and inside of the bureau door - how cute are the surprise flowers inside?! What a fab way to add more flowers to your life!
For more furniture painting and crafty inspo join our private Facebook Group - Furniture Painting Hub with Shabby Nook! Share your creations, see what our members are up to, and get inspired!
BECOME A POSH CHALK STOCKIST!
Did you know we are now the UK distributor for Posh Chalk Luxury Coatings & Artisan Range?
We are currently growing our stockist network!
If you would like to become a stockist and join a supportive network with healthy profit margins, you have a bricks & mortar business or established online business, apply today by clicking the button below!