Nooky Gossip 64! NEW Releases from Dixie Belle and Posh Chalk! Patina Paint! Posh Chalk Stencils Autumn Release! Silk Sample Packs! Shop News and Workshops!
Posted by Shereena Starmer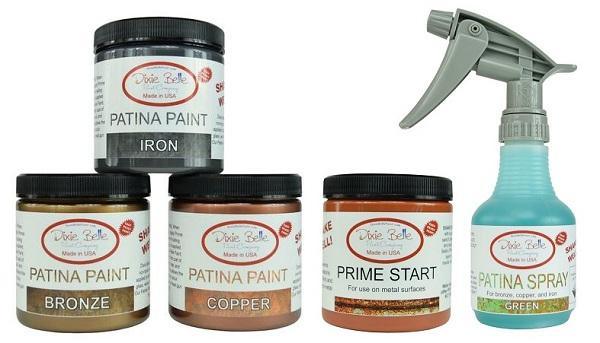 Create REAL Rust and Patina with Dixie Belle Patina Paint!
Dixie Belle Paint Company's Patina Paints have made it to the UK after being reformulated for the UK market! We are still waiting for them to reformulate the Blue Spray and Patina Guard - but everything else in the range can now be pre-ordered at Shabby Nook! We expect to receive the items instore mid-October.
This is stuff is simple to use but super effective. For metal surfaces apply 1 coat of
Prime Start
. For non-metal surfaces apply 1 coat of
paint
. Then apply 1 coat of
Patina Paint
and wait for it to dry. Add a 2nd coat of Patina Paint and whilst it is still wet spray on
Patina Spray
. Then just sit back, relax and watch the rust appear! It can take up to 6 hours to see the full result. You can use any
top coat
to finish.
We Have a Special Offer!
For a limited time only purchase all 3 metal paints, prime start and the patina spray for £95! And of course free shipping!
.
New In!
Posh Chalk Quality Stencils - New Release!
Posh Chalk have just released their Fall 2021 collection of stencils and we are in love with the variety of brand new designs available - you can see all the new designs in
this video
- there really is something for everyone! The collection includes Polished Concrete, Art Deco Fan, and a Greek Maze, as well as Mandalas, Tiles, and Oriental designs. For those of you getting ready for crafty Christmas decorations and gifts there are even Christmas themed designs - Winter Wonderland, Snowflakes, Merry Christmas and Posh Holly. Pre-order your next stencil now at Shabby Nook!
Fusion Mineral Paint True Colour Chart & New Colours!
Fusion Mineral Paint True Colour Card is painted with the actual paint making it a true representation of the Fusion paint colours. The Colour Card showcases all the Fusion Mineral Paints including the metallic collection.
NOW Includes the new colours releases!
Cost also includes Shipping in a non bend envelope.
Dixie Belle Silk Sample Packs
Dive in and experience a sample kit from Silk All-in-One Mineral Paint. Silk from Dixie Belle Paint Company is a mineral paint with a built in stain blocker and top coat. The sample packs are ideal for trialling out Silk mineral paint or perfect for a craft project. Samples packs are available in two different kits which contain White Cap/ Bay Breeze or Anchor/ Cape Current. Each kit is contained in an organza style pouch.
Nicola Burgess from the Paint Shed gave this sideboard a mustard makeover and we love it! Mustard coloured décor is a great way to bring a zesty pop of colour and interest to a room without being too in your face yellow.
This piece had previously been painted pink, so Nicola
stripped
it down and repainted it with
Fusion Mineral Paint in Mustard
. This mustard paint is a gorgeous warm, golden, muddy yellow colour that is ideal for autumn makeovers! Fab job, Nicola, this piece is perfect!
For more furniture painting and crafty inspo join our private Facebook Group - Furniture Painting Hub with Shabby Nook! Share your creations, see what our members are up to, and get inspired!
Exciting Shop News!
We finally get the keys to our new shop on 11th October 2021! It's been a long drawn out process but very nearly there... I cannot wait to get in!
Workshops anyone? I can now plan some workshops for November onwards, what would you like us to offer? Please let me know, just reply to this email all ideas welcome!
Want to get our weekly Nooky Gossip emailed to you each week? No problem click the link below:
I would LOVE to hear what other paint related tips, tricks and treats you would like to know about!