Nooky Gossip 50! Dixie Belle Stencils! General Finishes Brushed Enamel! General Finishes Gallon Tins! General Finishes Pre-Stain Conditioner! Belles & Whistles Transfer! Fusion Stain! Torso Lamp Makeover!
Posted by Shereena Starmer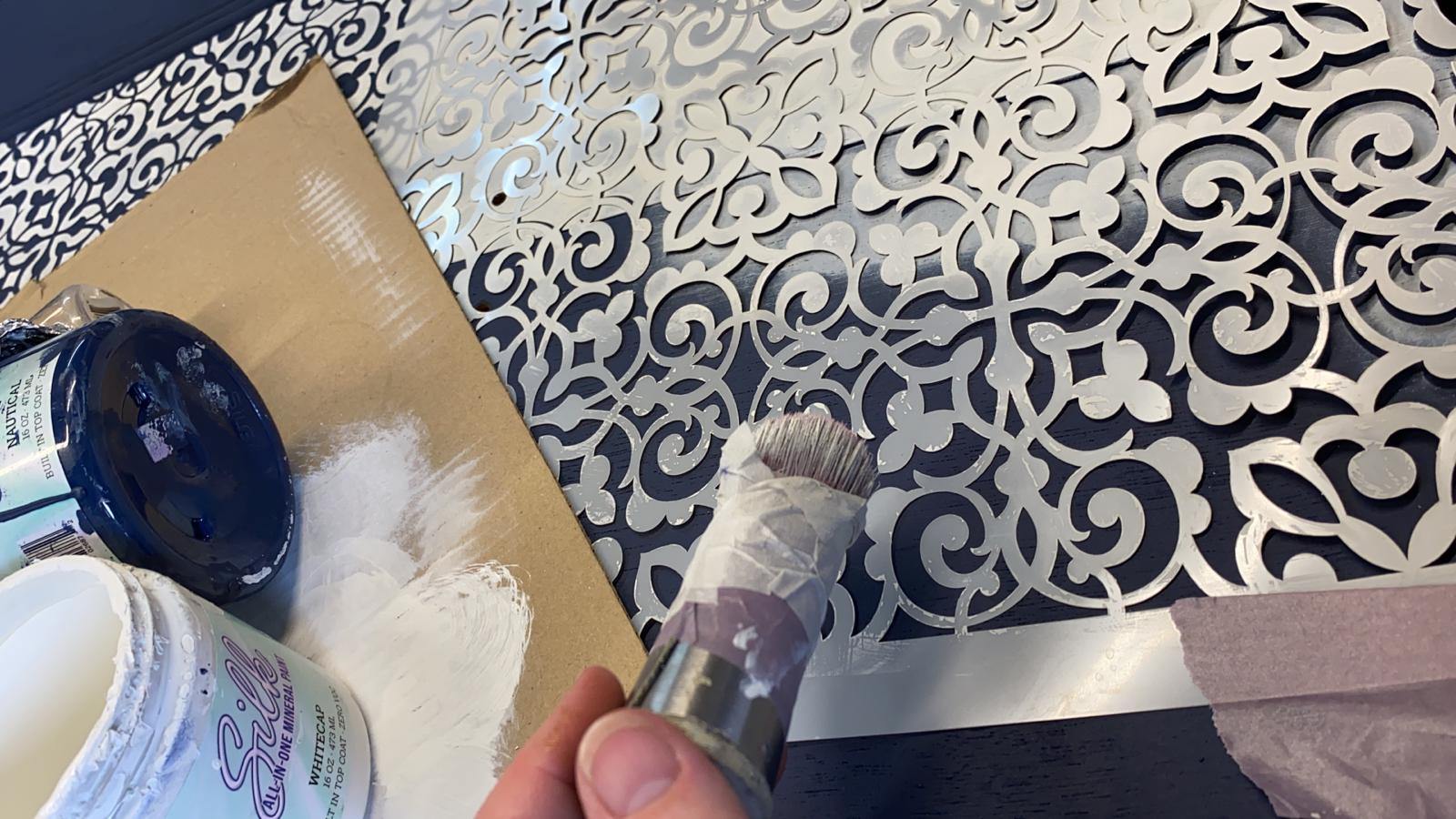 Needing a break from the footy? Get some peace back in your life with Shabby Nook! Today is National Upcycling Day – what better day is there to be inspired to get going on that next project! Pick up your paint brush and get creative! Enter our latest giveaway on Facebook and Instagram to get some new goodies (keep reading for more info)!
Did you catch Shereena's recent live video in the Furniture Painting Hub on Saturday? Here's a pic of what she was up to
Shereena was demonstrating how to use the gorgeous Morocco Stencil from Dixie Belle and how to build up the colour using very thin layers of paint. Shereena used Nautical and Whitecap from Dixie Belle's Silk Range for this project. What other demos would you like to see? Are there any techniques you would like some more advice with?
New Product!
We have seen a trend for whites, pastels and neutrals at the moment, but one thing people struggle with is using a topcoat over white paint as it can discolour and it attracts dust and fibres from the air which stick to it and is an absolute nightmare! We have the magic answer to this problem – we are now stocking General Finishes Brushable White Enamel paint! This stuff is super tough, hard as nails, super durable, has great coverage and it 
does not need a topcoat
! See I said it was magic! We currently stock it in a flat finish. Would you like to see a range of sheen finishes in the brushable enamel? It has rave reviews from the US – drop us a reply and we can expand the range! Check out 
this video
 from General Finishes for further info on Brushable White Enamel.
Back in Stock!
General Finishes Pre-stain Wood Conditioner is back in stock in the 473ml size. With the hotter, drier weather we have been having, this is a really popular product at the moment. Use Pre-stain Conditioner to prep wood before staining– this product helps with the application and evens out the finish of the wood stain.
Giveway!

We're having a giveaway to celebrate #NationalUpcyclingDay! To celebrate we will be picking winners at random to receive a super mega bundle of goodies from Shabby Nook! This time we are running our giveaway on Facebook AND Instagram and there will be 2 winners - if you enter on both you double your chances!
Back in Stock!
Our best selling transfer from the Belles & Whistles range has definitely been Magnolia Garden! And now it's back in stock at Shabby Nook!
Now Stocking!
We're now stocking the HUGE gallon (3.786 litre) tins of High Performance Top Coat in Satin and Flat Out Flat finishes! Get yours now!
Back in Stock!
Fusion's All in One Stain and Finishing Oil is back in stock in Cappuccino! Easy to apply and lets the wood grain shine through whilst being durable!
Speaking of getting creative – fabulous Shabby Nook Associate, Paul Estall, is back in the spotlight this week with this imaginative torso lamp makeover! Paul assures us that this isn't a cast of his own torso! The torso was gold leaf which Paul found too shiny and yellow for his décor and so he toned it down by sponging on Posh Chalk Patina in
Byzantine Gold
, and Fusion Metallics in 
Vintage Gold
and
Bronze
, giving it a bronze-y patina type finish. Using a sponge meant he could build up the layers and incorporate texture creating a fantastic multi-tonal finish. What a fab, quirky item to have! And what great a way to use metallics to achieve a faux finish!

What quirky pieces have you created? Join our private Facebook Group - Furniture Painting Hub with Shabby Nook - to share your creations, see what our members are up to and get inspired!
I would LOVE to hear what other paint related tips, tricks and treats you would like to know about!