Nooky Gossip 49: Summer Painting Tips! General Finishes Extender! Mist Bottle! Brush Soap! Pre-Stain Conditioner! Little House of Steffy!
Posted by Shereena Starmer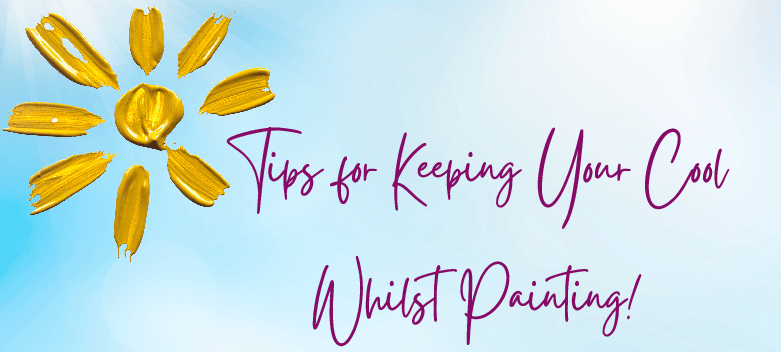 1. Shereena's top recommendation for painting in warmer weather with water-based paints is to add General Finishes Extender to your paint – this is one of the best products on the market and it is Shereena's go to product for extending paint drying times – she won't use anything else.
2. If you are having issues with how your paint is applying and it is over 21°C in your work environment remember this is above the recommended paint conditions and affects how paint behaves – consider painting at a cooler time of day and cooling your workspace.
3
. Don't be without a
mister bottle
! Spray your furniture down as you paint, spray the paint as you paint, spray your brushes as you paint - you can even spray yourself whilst you paint!
4
. Paint dries quickly in warm weather – including on brushes. Keep brushes in tip top condition by cleaning off stubborn dried on paint with
brush soap
.
5.
If you need to thin paint down use bottled or distilled water rather than tap. Tap water can make paint smell fusty and using bottled water helps it stay fresh for longer.
6.
Extreme heat and dry conditions can make it more difficult to stain and restore wood because the wood is dry and thirsty which can cause a blotchy finish. Did you know there is an easy fix for this? Just use
Pre-stain Conditioner
to prep the wood before staining– this product helps with the application and evens out the finish of the wood stain.
7.
Keep your furniture
waxes
in the fridge to keep them solid and in perfect condition!
This week we welcome another new Shabby Nook Associate to the family, Stefanie Carter from 
Little House of Steffy
! We have partnered together to showcase the wonderful world of upcycling - welcome to the Shabby Nook Family, Stefanie!
Stefanie is an incredibly talented upcycler – check out this gorgeous little side table she transformed! Stefanie painted it with 
Dixie Belle's Silk All in One Mineral Paint in Deep Sea
, brought out the intricate details and characteristics of the piece with gold, and showed off the beauty of the wood grain with a natural wax finish on the top. To protect it and give it an all over sheen she finished by applying a clear wax finish. Stunning!
Keep an eye out to see what else Stefanie makes using Shabby Nook products! And join the private Facebook Group - Furniture Painting Hub with Shabby Nook - to see what our members  are up to and get inspired!
Want to get our weekly Nooky Gossip emailed to you each week? No problem click the link below:
I would LOVE to hear what other paint related tips, tricks and treats you would like to know about!