Nooky Gossip 33! Old Favourites Back In Stock - Whitson's Universal Lacquer, Fusion Metallics, Fusion Stain & Oil, Fusion TSP! Business Updates! Pinterest! Instagram! General Finishes Update!
Posted by Shereena Starmer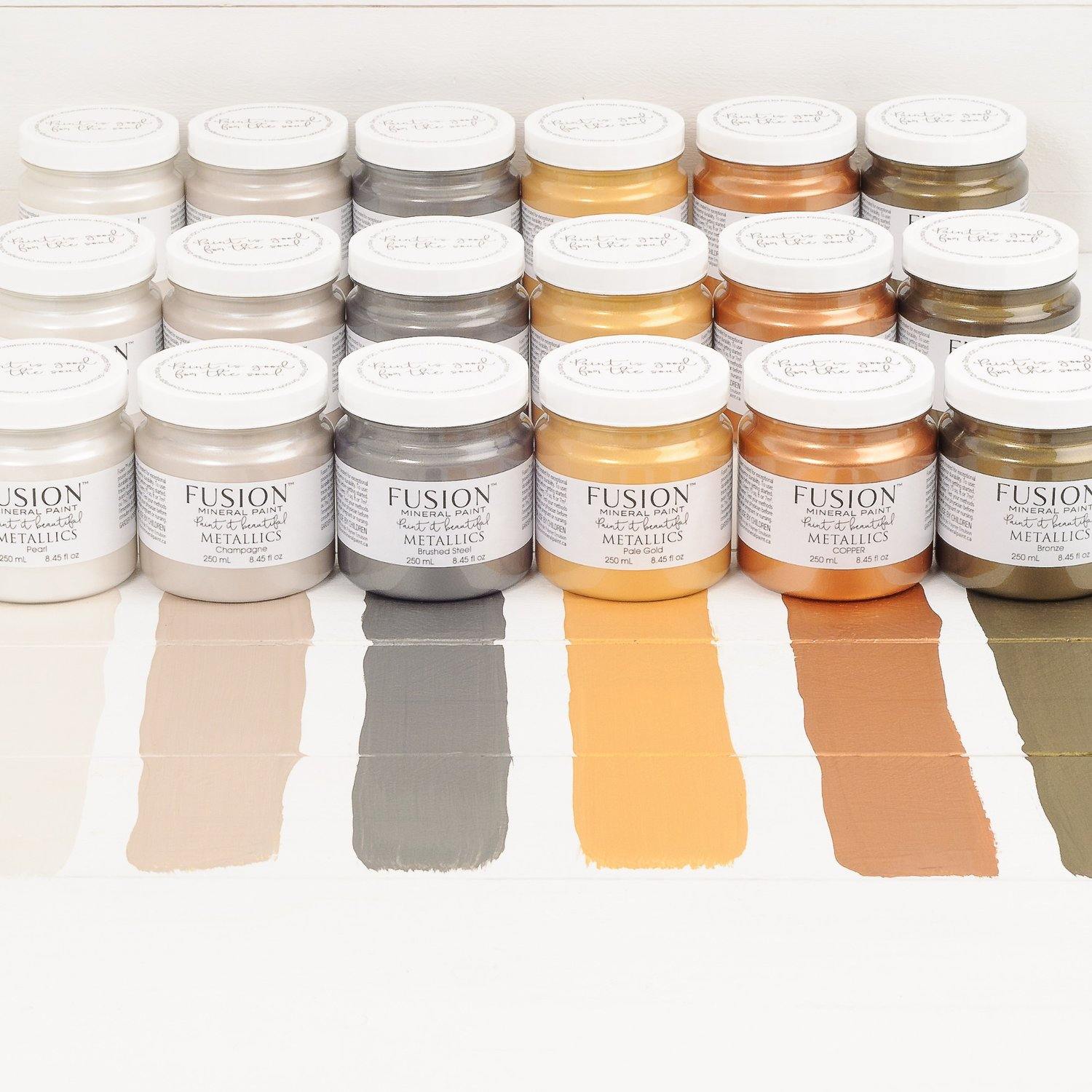 This week we say a big welcome back to some very much missed products. We are so pleased to have them back in stock! 
Metallic Paint 
from Fusion works just like other 
Fusion Paints
 – they are self-levelling and no sealant is required. Use them over a coat of similar coloured paint for optimum shimmer as they are fairly transparent. Or mix with 
glaze
 for a subtle iridescent finish.
Whitson's Universal Lacquer
 is superb for protecting 
metal leaf
 as well as paint. Apply thinly with a brush, spray or roller and is touch dry in under an hour! Just what you need to perfect and protect precious metal and imitation metal leave finishes! 
Add colour and sealing oil to wood surfaces in one fell swoop with Fusion's All In One Stain & Finishing Oil! It soaks into the wood it leaves no surface layer or film making it ideal for heavy use areas like floors, kitchen cabinets or tabletops. It has excellent resistance to abrasions and can be washed over and over again. Check out the colours available on our website.
Environmentally friendly and safe to use on all surfaces, Fusion's TSP is just what you need to thoroughly and easily clean pieces before applying paint. It removes oil, grease, fingerprints, stains and other contaminants, which will improve the adhesion and the look of subsequent coatings. Get hold of a bottle now at Shabby Nook!
BUSINESS UPDATES!
Shabby Nook is currently going through a rebrand and we are beginning to implement some process improvements to bring you an even better customer experience! Keep an eye out here and on our social media for further updates!
NEW! Chat Box!
If you have been on the website recently you may have seen we have a new chat function. The chat box facility is working well from our perspective, but we would LOVE some feedback from our customers. Have you used it? What did you think? Reply to this email to let us know!
NEW! Amend Your Order!
We are currently trialling an app on the website that allows customers to edit their own Shabby Nook orders for a limited time before orders are picked, packed and dispatched. Customers 
cannot edit between the hours of 8.30am – 12.00pm
, as that is our main order fulfilment time, but you can edit orders outside of those hours. You can edit your order within your customer account.
NEW! Download Invoice!
You can now download your invoice directly from your order confirmation email. If you need an invoice for your records just click the link and download! 
COMING SOON! Delivery Tracking!
We are making improvements to our delivery service and soon you will be able to track your order by logging into your customer account! Going forward all deliveries will be tracked either by Royal Mail Tracked Delivery or Parcel Force. Watch this space for further updates! 
Very Pinteresting!
People are loving our 
Pinterest
 right now! We have a growing Pinterest account with some fabulous boards and trending looks on there. Make sure to give us a 
follow
 and check out our pins! So far we have had over 800k customer views this month!
Insta Success!
Our 
Instagram
 page has hit nearly 3000 followers! Instagram is a fab source of inspo – don't forget to 
tag us
 if you use our products so we can share your work! We also run a weekly quiz on Fridays for our followers – we'd love you to join in!
General Finishes Update
We know everyone is desperately seeking General Finishes but due to an ongoing situation the UK distributor is currently closed to all UK stockists. This is out of our control and we are working on sourcing an alternative product line. Some great alternatives to General Finishes include 
Dixie Belle Top Coats
, 
Fusion Tough Coat
 and 
Autentico Varnish
.
Want to get our weekly Nooky Gossip emailed to you each week? No problem click the link below:
I would LOVE to hear what other paint related tips and tricks you would like to know about!