Nooky Gossip 21: Whitewash Tips! Dixie Belle! ReDesign With Prima Stencil Brush! Wood Graining Tool! Trunk Transformation!
Posted by Shereena Starmer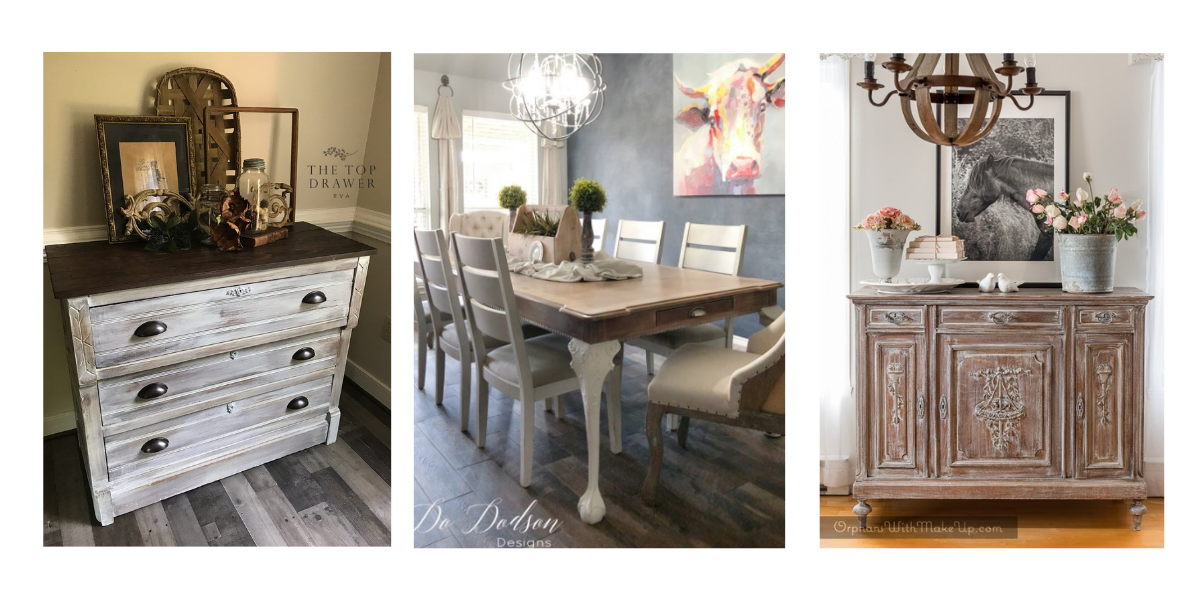 Whitewashing Top Tips!
Whitewashing adds a muted coating that still maintains the allure of the original wood and it's a great way to achieve a rustic vintage look that fits into any home. And best of all, it's an easy and forgiving technique that doesn't need special tools or equipment! For inspo we have included pics of some of our fave examples of whitewashed furniture and décor!
Tip 1: Prep!
This technique works best on unfinished wood. Clean and sand your furniture before starting your whitewash so the wood grain can absorb the colour.
When using dark woods, tannins and resins can often bleed through which will tinge a whitewash yellow. Counteract this by using Clear BOSS Stain Blocker after cleaning and sanding.

Tip 3: Paint Mix!
To create your whitewash furniture paint, thin down any water-based white paint with water; about 1 part paint to 1 part water. If you want a more transparent finish, add some more water. If you want a slightly more opaque finish, add some more paint.

Tip 4: Don't Paint It All In One Go!
Paint your whitewash in sections, using long, straight strokes in the direction of the grain, then wipe in the direction of the grain using a clean cloth to remove the excess. Whitewash dries more quickly than normal paint and working in sections prevents it drying before you wipe off the excess.

Tip 5: Build it up!
This technique gives you ultimate control over the tone and transparency of your whitewash. One coat may be enough to give you the look you are going for. Or you can build up to a stronger tone using multiple layers and repeating the whitewash process.

Tip 6: The End!
Once dry, seal with your preferred sealant - you can use any waterproof topcoat or wax depending on what finish you like. 
Did you know, you can also colour wash furniture? Close friend and part of the Shabby Nook Family - Connie Clarke from FAFF Designs – demonstrated colour washing over on the official Dixie Belle Paint Company Facebook Page last month –watch the video here! 
Restock!
We have stocked up on Dixie Belle Paint now that a shipment has arrived in the UK! Visit the website to pick up your fave or to try something new! We are getting rave reviews about their Silk All In One Mineral Paint, even by painters who have previously been loyal to other brands!
Restock!
The Small Stencil Brush from Redesign with Prima has been restocked at Shabby Nook! This natural bristled brush is perfect for dabbing, stencilling and creating faux finishes. An essential bit of kit for any painty peeps, this one is very popular with our customers!
Back in Stock!
The Wood Graining Tool Set is back in stock! You can create amazing wood grain effects using this multi tool set. It's suitable for use on any surface and is easy to use.
Paint the surface in a base coat, then apply a glaze and whilst it's still wet, drag and rock the wood graining tool through the glaze to create a grain effect. The teeth creates the grains and the rocking creates the knots! It's worth practicing first but once you get the hang of it this is a fab technique for making a faux wood finish!
Hidden Treasure!
Sophie Anderson recently shared this fantastic trunk makeover in our private Facebook Group – The Furniture Painting Hub – With Shabby Nook! It came to Sophie covered in layers of gloss paint and old decoupage, mouldy inside, holes in the bottom and, to finish it off, rusty hardware! But Sophie worked her magic and transformed it by painting it in Midnight Blue by Fusion Mineral Paint (one of our bestsellers!), re-lining it and treating and repairing the mould and hole damage. Sophie's top tips are to check for damp and mould inside before painting and to seal the wood inside to prevent future damp problems. Great tips and a fab transformation, Sophie!
Want to get our weekly Nooky Gossip emailed to you each week? No problem click the link below: