Nooky Gossip 20: Trendy Transfers! Fusion Faves! Charity Pens! Gift Vouchers! NEW Dixie Belle Stencils and Coffee Themed In The Spotlight!
Posted by Shereena Starmer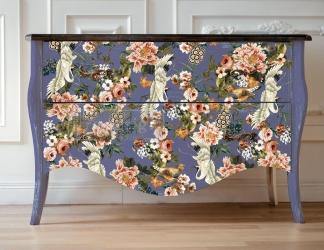 Trendy Transfers
Adding a transfer to your furniture can be a really simple task with such rewarding results! There are lots of beautiful designs out there and they can transofrm your furniture to give it a boho, shabby chic, modern or vintage vibe. Here at Shabby Nook we recommend Re-Design With Prima Transfers and their fab Transfer Tool - they have so many designs to choose from and you can use them whole or cut them into smaller pieces!
We have a step by step guide, including top tips, for using transfers over on our blog which you can read here. 
Charity Pens!
.
This is a reminder that 10% of all sales of Painty Peeps Pens made before 15th December 2020 will be donated to a fantastic Burton-On-Trent charity, Derek's Tree! And we will match the amount raised to double the donation and buy twice the amount of pressies for children in poverty. So far we have raised a fab £69.48! Our target is to get to £100 by 15th December so we can buy £200 worth of presents for Derek's Tree! 
.
.
Now Available!
.
Our gift vouchers are now available online! They come in demoninations of £10, £25, £50 and £100. The voucher will be emailed as a e-voucher with a unique code that can be redeemed online by adding it to the discount code box at checkout. Vouchers are valid for 12 months from purchase and are redeemable against any collection sold at Shabby Nook! 
Fusion Favourites!
.
We have plenty of stock of our 5 top selling
Fusion Mineral Paints
- we have lots of 
Ash
,
Coal Black
, 
Midnight Blue
,
Raw Silk
and
Soapstone
available and up on the website!
Fusion Mineral Paints go on easily and dry to a smooth, matte,  and sleek finish. It's easy to see why they are so popular with Shabby Nook customers!
Brand New!
.
Create a raised embellishment by using with 
Dixie Belle Paint Company's Mud
. Or keep it simple and striking with contrasting 
Chalk Paints
. Make your own rustic bedroom furniture, contemporary home furnishings, distressed furniture, or fancy  kitchen cabinets with furniture stencils!  
Shop Now!
In The Spotlight!
.
.
Member of the 
Furniture Painting Hub - With Shabby Nook
 Facebook Group, Lesley Pearson has been longing for a coffee station and when the right piece of furniture finally came along she created her own her very own coffee station masterpiece! Amazing!
Lesley transformed her coffee station using lots of items available from Shabby Nook, including, but not limited to,
BOSS
,
Caviar
,
Coffee Bean
, 
Drop Cloth
,
Moonshine Metallic in Gold Digger
,
 

Best Dang Wax Brown
,
Clear Coat Gloss
,
Gator Hide
and
Big Mamma's Butta
from the Dixie Belle Paint Company,
transfers from Re-Design With Prima
, and WoodUbend
Keyhole Moulds
! Wowee! Lesley put a lot of effort into this and she has really pulled it off! Lesley says  'I am thrilled to bits with how this turned out!'
Thank You!
A big THANK YOU to everyone that supported us by getting involved and making purchases during our Black Wednesday, Early Black Friday and Early Cyber Monday sales!

As paint sales begin winding down for the winter months we will have the opportunity to start implementing some of our larger projects AND get stuck back into painting furniture - my first love! Of course, Shabby Nook isn't going anywhere - we will still be open and here to serve all your paint and furniture makeover needs! Watch this space for news coming soon about the Paint Machine!
Want to get our weekly Nooky Gossip emailed to you each week? No problem click the link below:
Posted in

Back In Stock, Christmas, craft, D.I.Y, Dixie Belle, Dixie Belle Paint arrival, Fusion Mineral Paint, Home Decor, How To, new product, Nooky Gossip, Painty Peeps Pens, Store News