Nooky Gossip 15: Meet Shereena - and Jay Blades! Influencer collabs! Palette Knife! Fusion! Re Design by Prima Transfers and Tool! Glam In The Spotlight Post!
Posted by Shereena Starmer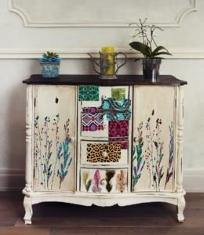 Over the last couple of weeks, you have met my team, now I suppose I should introduce myself! Hi! If you don't already know me, I'm Shereena and I own and run Shabby Nook. And yes that is a pic of me fangirling over Jay Blades from The Repair Shop! Who can come up with the best photo caption?! Submit your entries over on our
Facebook Group
!
I have always had a keen interest in interior design and I remember when I was 12 years old asking to decorate my bedroom as my birthday present - as a huge fan of Changing Rooms I of course decorated it with bright paints, stencils, and candelabras - I thought it was the bees knees!

Despite a passion for painting and design from an early age, I didn't get into the painty peeps biz straight away. I've had lots of different jobs including being chef, working at NPower, managing a team in banking, assistant manager at a pub and, after having my second child, childcare. It was whilst working in childcare as a nursery worker that I had the realisation that I could turn my painting passion into a career and thus Shabby Nook began to materialise! I had always been hands on with DIY - I was bought up in a crafty, make do and mend type household, and I bought and renovated my first house at 17. I tried new things, perfected techniques and of course, made mistakes! Over the years I learnt what to do… and what not to do! I felt I could share this knowledge with others and do something I actually enjoy.
The business has changed a lot over the years. I started painting furniture at home in 2013 under the name Oh So Lovely Painted Furniture. Then I went into a partnership in 2014 as Sheridane's Vintage Market. In 2015 I took over the business and that's when it changed to Shabby Nook. We've had several shops along the way and been featured in home interior magazines and the local press. Shabby Nook even won a business award for
Most Unique Family Run Retail Store in Burton
in 2018! Last year, I decided to shut down the shop, move to the unit and changed to primarily being online and focusing on being a paint specialist. I also support others in the trade in setting up their own business and grow it.

I LOVE supporting fellow business owners. I am really passionate about it. I love to develop people and get the best out of them and see their transformation! I thrive off other people thriving! This is going to be a big focus for 2021 so watch this space!

Beyond the shop…

I love to travel. And I love to travel on my own! It feels so empowering and I can't wait to do some more! Like many of you I have really missed being able to travel this year.

As well as heading up the shop, I also head up the family – my husband calls me 'The Boss'! When I'm not working, I like to spend quality time with them all, which is getting more difficult as the kids get older and want to do different things. If you have any tips – I'm all ears!

A very important part of my life that I recently rediscovered is my faith. I have found reconnecting with my faith over the last year has been transformational in my life. It has given me an inner strength and sense of calm and purpose.
Calling All Influencers!
Are you an influencer? If so, please send us your media kit and
email us
for further details. We are looking to set up some amazing business partnerships with people in the industry and the interior design world. Don't forget we are getting a paint machine soon and will be offering wall paints and expanding the business even further. So let's collaborate!
 
In Stock
 

We still have Fusion in stock and the website is up to date with stock levels. The Fusion line is very popular with our customers and it has been difficult getting stock in 2020 and we're so pleased to have it back in stock. 500ml paints,

 

Tough Coat

 

and 

 

Ultra Grip

 

available.

 
 
New Items and Restock
 

We're now stocking 2 new super pretty transfer designs and have restocked our old faithfuls! These transfers are easy to apply to walls, furniture, picture frames, mirrors, floors, and much more!

 

 
Back in Stock
 

The Transfer Tool from Re Design by Prima is back in stock online! With a double ended design this larger tool is ideal for applying transfers quickly and easily.

 
Gloriously Glam!
How gorgeous is this mirror and lune table which have been transformed by Facebook Group member, Eliza Limburn?! They look so chic, sexy and luxurious! 
Eliza used Autentico Paint in Byzantine and Metallico in Old Gold to achieve this look. It was finished with black wax. The lune table had a melamine type faux marble surface so Eliza used Dixie Belle Slick Stick to prime it. Eliza says Slick Stick is 'an amazing product!' and we couldn't agree more! Other Facebook Group members loved these two pieces - calling them 'elegant', 'beautiful' and 'lush'!  
For design inspo and fab tips, hints and tricks from fellow painty peeps, join our private Facebook Group 
Furniture Painting Hub – With Shabby Nook
 today!
Want to get our weekly Nooky Gossip emailed to you each week? No problem click the link below:
...