How to use Dixie Belle Paint Company's Best Dang Wax
Posted by Shereena Starmer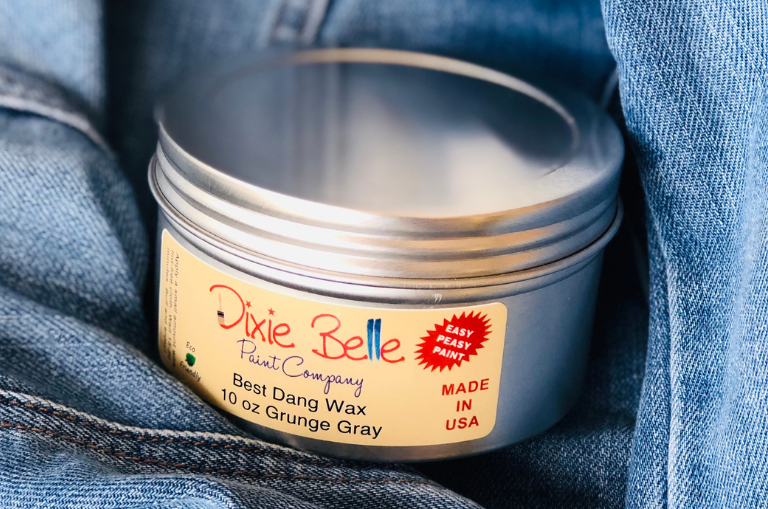 What is Best Dang Wax?

Dixie Belle Best Dang Wax - A revolutionary water based wax product which can be used on a painted surface like Dixie Belle's Chalk & Mineral Paint but also can be used over other types of chalk or mineral paint too. Seal and protect your work. Create fab faux finishes or just add a little more luster to your finished furniture.  Dixie Belle have formulated their wax and top coats to interchange with each other. A Revolutionary Water based Wax that  CAN be painted over! Yes! Really!

How to use Best Dang Wax

Firstly, make sure that your painted surface has been dried for more than 24 hours.

You can apply the wax either using:
Dip your applicator to draw a small amount of wax and apply a thin layer to the surface in a circular motion. This ensures the wax reaches all areas of the paint, especially important on a textured finish.

Wait a minimum of 15 minutes once all the wax is applied and buff the surface back with a clean cloth. Or longer if you want a more dramatic wax look but no more than 24 hours. 
Buff the product in a circular motion.
This will give your wax a soft sheen. 
Using Wax For Faux Finishes 
Create a subtle soft feathery shading by applying a small amount of wax in a contrasting colour to your paint using a Dixie Belle's 2inch Chip Brush. With a light hand 'feather' the brush around the edges of your furniture this creates a subtle shaded effect. 
Dixie Belles Best Dang Wax is great for creating grungy layered effects. Because the wax can be painted over this offers a unique opportunity to layer up like never before. 
Create 3 dimensional looks with Best Dang Wax in clear and black. Black wax looks incredible over rich punchy colours you can even use it to enhance Ombre paint effects.
Products used
1. The wax comes in 5 different colours
2. A chosen applicator
3. Applicator for faux finishes
For more updates on furniture painting articles, products and news follow our Facebook and Instagram accounts
or
join the Furniture Painting Hub with Shabby Nook private group on Facebook where you can ask questions, be inspired and get support on your painting journey!