A Trendy kitchen Update Using Fusion Mineral Paint
Posted by Shereena Starmer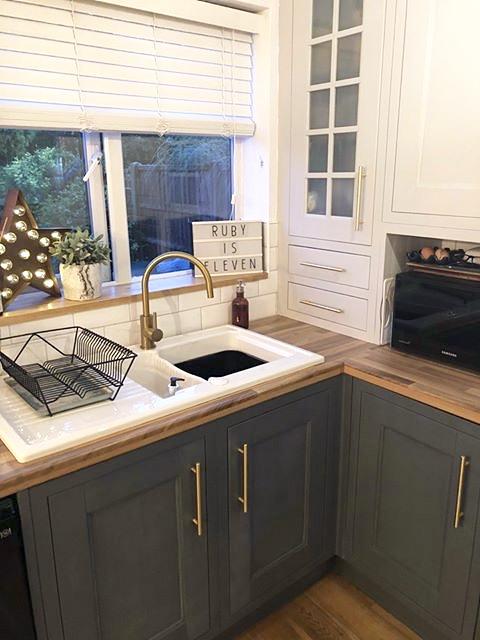 What a pleasure it was to paint this kitchen back in the summer for my lovely customers!
Tops painted in Sterling, bottoms painted in Soapstone by Fusion Mineral Paint. Fab new trendy brass gold handles to make it pop!
Deb is over the moon, thank you for asking me to paint your kitchen and be part of your home restyling. I adore Debs style and what they have managed to create. A super inspiring urban rustic and reclaimed home.
.
So how do we do it?
Firstly I removed all of the doors and existing hardware then scrubbed clean all doors both sides all carcasses drawers plinths and trims with our awesome specialist furniture cleaner Grime Cutter. I LOVE this product it cuts and breaks down the toughest stains grease, nicotine grime and even gets rid of smells! And its biodegradable! wiped down with clean wet cloths. 
Then everything had a scuff sand, using Mirka Sanding Mesh Paper. My favourite go to for this type of prep hand sanding. Everything was hoovered and wiped to remove any dust 
Masking time! I masked off and covered all the areas prone to paint splashes, especially around kick boards and walls. I used tesa delicate surfaces tape and wide tape for the floor, with masking paper.
Next I apply a thin coat of  Fusion Mineral Paint Ultra Grip Using the amazing rollers by Staameester, I use them for virtually anything I am wanting to roller.  and my fav brushes by Cling on  Although Fusion Mineral Paint adheres amazingly well, the current finish on the doors was a manufactured finish that does require an adhesion primer.  I always use a primer when painting kitchens, due to the heavy usage and Manufacture finishes that are used. If you are unsure about the surface use an adhesion primer.  Ultra grip by Fusion. Because the current colour was cream the Ultra grip is clear and can be tricky to spot any missed areas, but if you slightly tint it with the paint colour or a universal tint such as our polyvine colourant tint (also great for tinting down other primers)  Using my fusion roller and they amazing GEN foam applicator brushes
Now the fun part! I painted all the doors both sides, and all the carcass areas and kick boards and panelling. 2 coats of the darker colour soapstone and 3 coats of the light colour Sterling. A very light and soft sand in between coats with a super fine sand pad.
I always apply a top coat in kitchens no exceptions! I recommend you do the same as makes it far more easier to clean and adds additional protection. For this kitchen we used General Finishes  High Performance Topcoat which I have used on other kitchens. Minimum of 2 coats. Rolls nice and easy and the foam applicators are great for corners and detail. Thin coats for top coats! Especially on dark colours to avoid drips and corner gathering and a milky haze - ensure the paint is fully dry at least 24 hours.
I fitted the new hardware which is totally gorgeous! My customer purchased from B&Q 
All the doors and drawers went back on taking care not to drop the screw driver on the new paint work! 
There we have it! Are you ready to tackle your kitchen?
Soon we will have an instructional video available for you to get an in depth tutorial where I share my top tips I've learned along the way and how to manage a large painting project and the smaller elements so you can complete it in a timely and organised manner. More details coming soon! 
If you think this may help anyone feel free to share, tell me what you think in the comments and if you want to paint your kitchen whats putting you off?
Much Love,